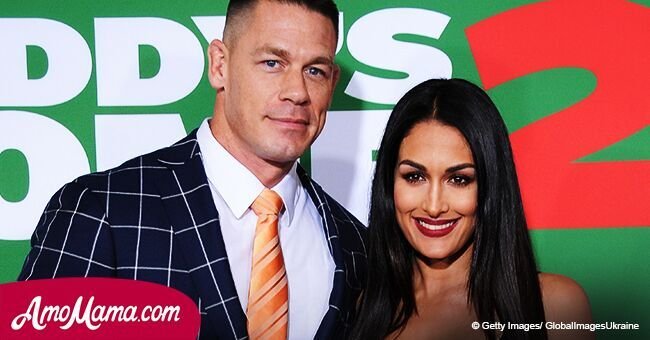 John Cena and Nikki Bella share a very passionate kiss in public. The couple look so in love

John Cena surprised Nikki Bella at last year's 'Wrestlemania' when he popped the big question.
It seems John Cena is ready to yet again sweep Nikki off her feet with an unforgettable moment during the biggest night in professional wrestling.
The 40-year-old 16-time World Heavyweight Champion passionately kissed the 34-year-old at the Wrestlemania 35 press conference in New Jersey last Friday.
The two 'Total Divas' stars were only two of the several WWE personalities tasked to announce that the biggest weekend in sports entertainment will once again be held at the Met Life Stadium just like old times.
While John was speaking at the podium to announce big news to the press in attendance, he couldn't help but sneak in a little kiss for his long-time lover.
He asked Nikki, a two-time Divas Champion, to join him on-stage as he made a speech about how his life is centered around this yearly event.
"What does WrestleMania mean to me? Everything."
The venue holds a special place in Cena's heart as during the last time it was held in the Met Life Stadium, John battled Dwayne 'The Rock' Johnson in one of the biggest wrestling matches of all time.
He closes his speech by saying:
"What will I do at next year's WrestleMania? I don't know but I know I'm going to be there, I know I'm going to love it, and I sure hope you do too."
Please fill in your e-mail so we can share with you our top stories!