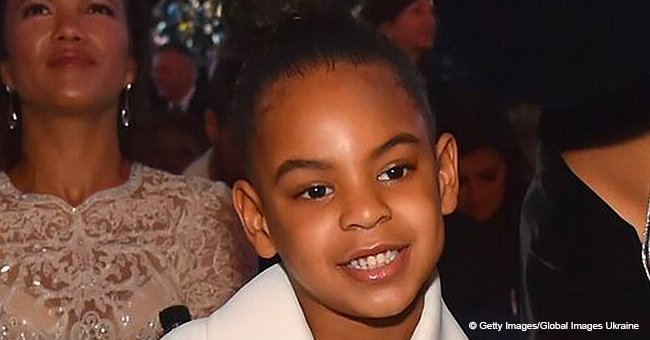 Blue Ivy, 6, recently melted hearts as she showed love to mom Beyoncé & grandma in very sweet way
- AmoMama has learned from Instagram has Blue Ivy showed to her mom and grandmother in a very sweet way.
- The six-year-old recently wrote heartwarming letters to her mom and her paternal grandmother, Gloria Carter for their awards.
- Just like her mom, Blue Ivy is growing into a beautiful and kindhearted personality.
Little things matter a lot in many cases.
Little Blue Ivy just showed what manner of lady she's progressively growing into with her innocent celebration of the women in her life.
Blue Ivy who is only six-years-old knows best how to cheer on her celebrity mom.
She recently showed love not only to her Beyoncé but to her paternal grandmother, Gloria Carter.
She wrote letters to both of them, following their recent humanitarian awards at the 2018 Wearable Art Gala.
Who would have expected such a kind gesture from her? But she did and she got people loving up on her.
It was a night filled with fun and gratitude as Tina Knowles-Lawson and Richard Lawson hosted their WACO Theater Wearable Art Gala with family and friends.
The event celebrates the impacts of art through fashion and philanthropy.
This year's event honored two extraordinary women who each hold a special place in Tina's heart: daughter Beyoncé and Jay-Z's mother, Gloria Carter.
Ivy's mom delivered an emotional speech as she accepted the award from her mother.
However, Beyoncé's way of bringing out people's emotions is also adopted by her six-year-old adorable daughter.
Ivy wrote to letters; one for her mom and the other for her grandma.
In the letter to Jay-Z's mom she thanked her grandma for her daddy, and in the one to Beyoncé she thanked her mom for siblings Rumi and Sir.
She wrote to her mom,
'Thank you for my brother and sister, thank you for loving me and daddy but most of all thank you for being you.'
That must have been one of the best congratulatory messages that Beyoncé has had for a while.
To her Gloria, she wrote,
'For my grandma, I love you. Thank you for creating my daddy. You make me happy, I want to have a heart as big as yours.'
She sure knows how to make people's heart melt and we love her more for that.
What is your opinion about Blue Ivy's action towards her mom and grandma's awards?
Source: Instagram.
Please fill in your e-mail so we can share with you our top stories!