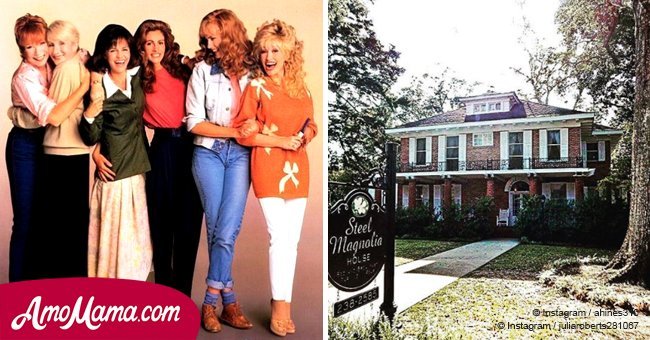 The 'Steel Magnolias' house is a charming B&B. And you can easily visit it

The beautiful construction has retained its charm for centuries.
According to an article published by Today, the Steel Magnolia House, which is remembered as the palatial home featured in the film Steel Magnolias, has eventually become a popular bed-and-breakfast hotel.
The beautiful premise was an indispensable part of the movie's set, in which it served as the residents of the Eatenton family. Located in Natchitoches in Louisiana, the property has been modified to a vintage-style hotel.
Given the Hollywood-status attached to the place, one would expect that a night's stay there would come at a premium price, making it a place of luxurious stay for the wealthy.
However, one can spend a night at the charming hotel even with $200 dollars, which is a steal when compared to other luxury hotels.
The Steel Magnolia House has transformed into a bed-and-breakfast over 4 years ago and has since gathered several patrons who love spending some quiet time, enjoying the tea and the refreshments.
The architectural masterpiece was built in 1841, and owner Dan Dyess shared that the essence of its design and ambiance remains untouched.
Built on a total area of 5,900 sq. ft., the property is a reminder of a completely different era. Wooden rocking chairs are placed on the wide front porch, with the perfect view of the abundant natural beauty that surrounds it.
Many of the tall trees around the premises are old oak trees, and nature lovers enjoy the blooming of camellias, wisterias, and magnolias in the spring.
The interiors of the home still feature the vintage wooden flooring, extravagant chandeliers and antiques, apart from cozy fireplaces and five elegantly designed bedrooms.
The building is remembered as the backdrop of the iconic scene from the movie, when the lead characters Shelby and Jackson walk out, hand in hand, as bride and groom.
The movie featured Julia Roberts, Daryl Hannah, Shirley MacLaine, Olympia Dukakis, Dolly Parton and Sally Field, among other stars.
Please fill in your e-mail so we can share with you our top stories!