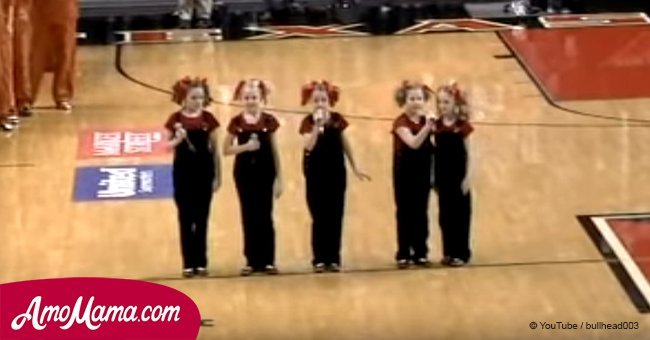 5 sisters performed the National Anthem. And this is one of the best versions we've ever heard
Many artists have tried their hand at singing the national anthem.
Inspire More reported that a group of five young girls gave one of the best renditions of the song at a Texas basketball game in 2008.
It is a common sight to have many artists sing the Star-Spangled Banner at regional and national events. Some versions have been met with great success, while others have not.
An extremely difficult one to master and sing, five little girls gave the song a try.
Nobody watching the basketball game expected much. They would dutifully stand, place their hands over their hearts and listen to the high-pitched version of the song.
They would then settle down for the real reason they were there. But they were wrong.
Nobody perhaps remembers it to this day that the match was played between Texas Tech and Texas. Nobody perhaps can recall the final score.
What everyone remembers are the five little girls, whose bodies seem barely large enough to contain their larger-than-life voices, and whose video went viral.
During the performance, the little girls ranged in age from six to eight and were all members of the Lubbock, a Texas-based musical group, The Cactus Cuties.
Based on Lubbock's Cactus Theater, it was founded by resident Terri Caldwell to encourage young people in the arts.
Later, Cami, Terri's daughter, started a youth performance group called the Cactus Cuties in 2001.
The troupe's acclaimed rendition of the national anthem left the audiences speechless. This lead to other appearances and, later, a book, Oh Say, Did You Know?
The illustrated book tells the history of Francis Scott Key's Star-Spangled Banner. It also includes a CD with the Cactus Cuties' version and two bonus tracks.
Audiences, both online and offline, cannot get enough of the version of the national anthem with the video on YouTube garnering over 10,284,394 views so far.
Please fill in your e-mail so we can share with you our top stories!