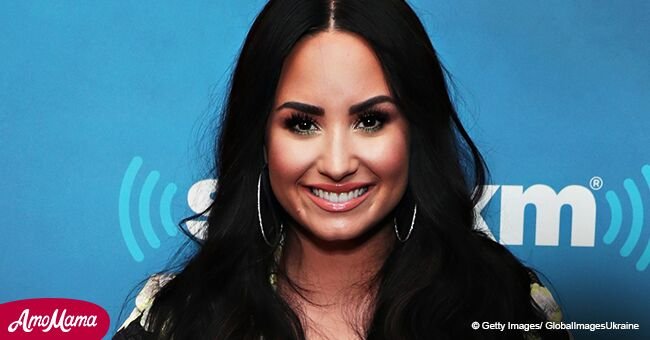 Demi Lovato, 25, flashes her curvy figure in a very revealing black t-shirt, which she pulled up and revealed more
Demi Lovato has fought long and hard to embrace her body in a well-documented struggle with an eating disorder and she seems to be winning that fight, finally. A few days ago, the singer, 25, pulled back her shirt to reveal a serious dose of underboob in an Instagram post that was well received by her fans, who know her struggle with body image all too well. In the photo, she has her dark hair loose and sports small black sunglasses and black nail polish in the image credited to photographer Angelo Kritikos. Daily Mail.
Lovato, who is on tour with DJ Khaled, took time off to perform her hit 'Skyscraper' at the March for our Lives Concert in DC on Saturday. Her ex-boyfriend, Wilmer Valderrama praised her for her participation, calling her a hero. The 38-year-old actor told Entertainment Tonight that he was proud of the way Lovato had faced her demons to become an inspiration to others. 'I think that she's literally the image of recovery and getting their life together, so I'm excited that she's there and for this historic moment for young people too.'
At the beginning of the year, the singer posted a photo of herself in a swimsuit, confiding in her followers that she was insecure about parts of her body on the photo but that she was letting go of perfectionism.
'So, I'm insecure about my legs in this picture but I'm posting it because I look so happy and this year I've decided I'm letting go of my perfectionism and embracing freedom from self criticism. Learning to love my body the way it is is challenging but life changing. Giving up my eating disorder has been the most challenging journey of my life but I work every day towards solid recovery even if I mess up sometimes. Today I'm feeling strong. You all can do it too. It IS possible.'
It seems like she really is embracing her body, which is one of the most beautiful things one can do. We are happy for her. Let us know what you think in comments.
Please fill in your e-mail so we can share with you our top stories!