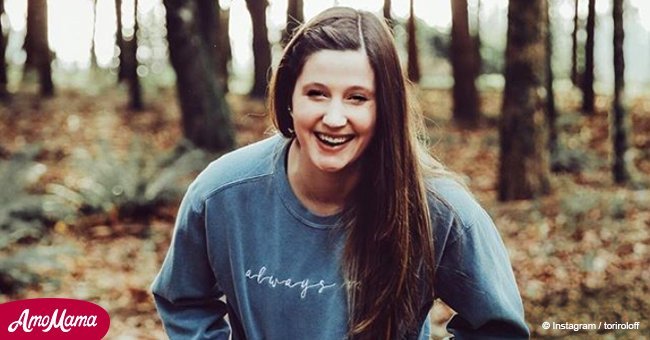 'LPBW' star Tori Roloff shows off her post-baby body in a one-shoulder swimsuit
Baby Jackson is ready for summer; the infant 'LPBW' star, recently enjoyed a day at an indoor pool with his mom who showed off her post-pregnancy body in a monochrome swimsuit.
AmoMama brings you an interesting one about LPBW star, Tori Roloff as she had a wonderful mother time with her son, Baby Jackson as gleaned from Inquisitr on March 28, 2018.
Little People, Big World's stars, Zach and Tori Rolloff announced welcoming their baby, Jackson Roloff on the social media last year May.
Ever since the mother of the infant LPBW star has been updating fans about the baby boy on a monthly basis via Instagram most especially.
His 8th-month update came in form of a video which featured him in his crawling milestone and showed his love for some fruits, avocados and apples specifically.
Tori's caption for the video was:
'We can sit up on our own for like 20 seconds (or until we get distracted usually by our feet) We have FOUR teeth We are crawling!!!! (Or scooting depending on how you look at it) We're still sleeping like a professional We LOVE eating.'
Baby Jackson is a month and some days away from his first birthday and he is showing us a cuter side of himself.
The cutie pie and his mom had a great time while taking a dip in an indoor pool a few days ago.
Tori, talking to the 'Gram' once again, posted a pic of herself and her son which she accompanied by the words below:
'Enjoyed an afternoon at the pool praying for summer to come! Jackson loved his first time in a big kids pool!" Tori wrote. "Such a little swimmer!'
Zach's gorgeous wife rocked a striped swimsuit which showed off her post-baby body.
The one-shoulder swimsuit gave us a glimpse into her asset and her hips downwards were goals for every woman who has just had a baby.
The TV star looked absolutely stunning but her adorable son stole her shine as he rocked a stylish swim pant which she picked for him.
The little boy also drew attention to himself at the pool as our source reported that,
'He had a blast splashing around with the other kids at the aquatic centre'.
Baby Jackson is growing up so fast with so much energy, doesn't that make him more attractive?
Please fill in your e-mail so we can share with you our top stories!