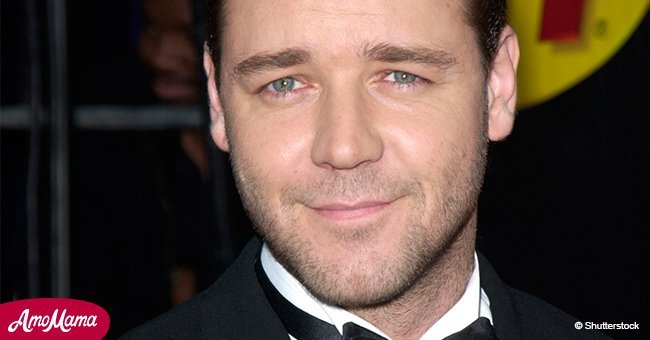 Russell Crowe looks barely recognizable after he gained weight
The legendary Hollywood star was spotted struggling with his immense weight gain during a vacation with his son.
Following the reports regarding his struggle with weight gain, Hollywood icon Russell Crowe was now spotted gaining an even more weight tipping the scale over 270lbs, according to Radar Online.
The 53-year-old actor was also seen sporting a big, bushy gray beard, which the source suggested might have been to cover his growing double chin.
It was further reported that the star's circle of friends are worried for Crowe and have shown concerns over his rampant weight gain.
Source: Radar Online
When he was spotted during a vacation in North Bondi, Sydney, he was seen playing basketball one-on-one with his 11-year-old son Tennyson.
The father-son duo was also accompanied by Crowe's personal assistant, with whom the star has been linked romantically in the past. Although, the star himself has continuously denied all allegations linking them romantically.
The source quoted a tweet from the actor responding to the allegations: 'Been told there are pics of me 'on holiday with a young woman' in Mexico #thereforameeting #shesmyassistant #defamersbegone #fakeassnews'
Following his split with wife Danielle Spencer, the actor has been busy selling off several of his personal items in a 'divorce sale.'
Source: Radar Online
The source informed that items like a used jockstrap from Crowe's film, Cinderella Man, has been among the items for sale. It has a starting bid of just $500, the report suggested.
In 2017, The Sun reported that Crowe had 'piled on pounds' for his new role in the movie, Boy Erased. He was spotted in his fuller figure while on a casual outing.
In the movie, the star played the role of a Baptist pastor and was cast opposite Nicole Kidman. The movie follows the life of Jared, the son of the pastor, played by Lucas Hedges.
Crowe has gained weight specifically for the movie role on a number of occasions in the past as well, including in 2016 while preparing for his role in The Nice Guys.
Please fill in your e-mail so we can share with you our top stories!