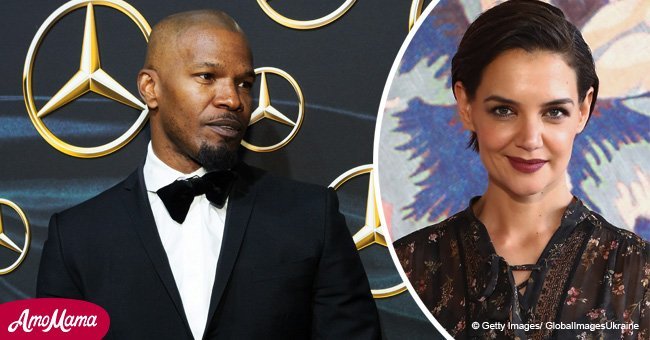 Jamie Foxx 'strays' from Katie Holmes, spotted with his baby's mom
The actor may have some explaining to do to Katie Holmes after he was spotted with his youngest child's birth mother.
Jamie Foxx is said to have been caught straying from Holmes. He has been spotted with his child's mother whom he had kept secret for nine years.
Radar Online reported that the incredibly public betrayal followed The National Enquirer revealing to the public that Kristin Grannis is the mother of Foxx's youngest daughter, Annalise, 9.
Just after the story had been exposed, Foxx was seen having a date with 40-year-old Grannis. The public had been questioning Holmes' whereabouts.
A friend supposedly said that Grannis and Foxx have kept their relationship hidden for almost a decade and for it to have been finally exposed by the publication is a relief.
Although, the friend continued to say that Foxx's behavior remains inexcusable since he is supposed to be with Holmes, who will be distraught if she finds out about the truth.
39-year-old Holmes began dating 50-year-old Foxx in October 2013, but they have also kept their relationship a secret for quite some time. They somehow revealed the relationship to the public by heading out on a beach last fall holding hands together.
An insider revealed that it had always been Holmes who was trying to make the relationship public but Foxx reportedly wanted things to remain on the down-low.
The insider continued, "Everyone has been worried about Katie since the beach photos because Jamie has essentially vanished from her life, and now he's been out with another woman!"
Radar Online shared that Grannis and Foxx met 16 years ago and they actually dated for years.
Unnamed sources close to Grannis shared that she and Foxx have made plans to tie the knot and elope in France.
Grannis has remained unemployed for years and has been living in a $2-million home purchased by Foxx.
There is a big chance that Holmes and Foxx's relationship may be hitting a dead end.
Please fill in your e-mail so we can share with you our top stories!