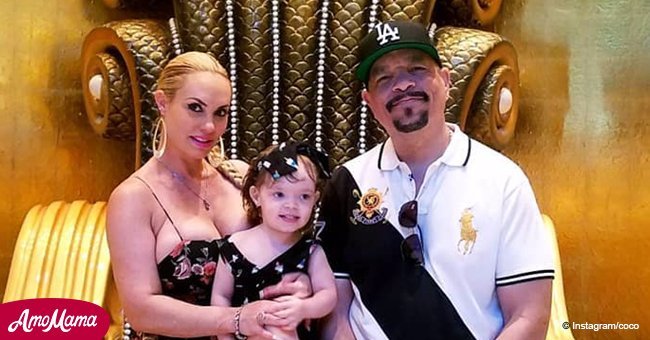 Coco Austin breaks the silence amid rumors that Ice-T is a distant parent for her daughter
The 39-year-old actress, dancer and model, Coco Austin, came to Ice-T's defense when he was criticized for being a 'distant parent.'
This followed after social media users started to question Ice-T's absence in Austin's Instagram photos. In the snaps, Austin always holds their 2-year-old.
As reported by Pop Culture, fans concluded that Ice-T is a distant father because he is never seen holding his daughter.
Austin took to social media and assured her 3 million followers that Ice-T is 'always nearby' when photos are taken. She added that they're a 'tight family.'
According to Austin, Ice-T spends a lot of time with their daughter Chanel; he just isn't fond of taking photos or appearing in them.
Fans have been leaving disparaging comments on Austin's Instagram posts. She uploaded a snapshot of the family sitting on a golden throne in the Bahamas on March 9.
On Instagram, Steezo Grove said that Ice-T has the look of a man who is not happy with the state of his life. Steevo added that 'having to start all over with a baby is tough.'
Alica Gold criticized Auston for not allowing Ice-T to hold his daughter, saying 'that's her first baby so I get it but [...] let that man hold and take a pic with his daughter.'
Despite the negative comments, several fans noted that Chanel takes after her father, and remarked what a 'cute family' the trio makes.
The couple walked down the aisle in January 2002 and renewed the wedding vows nine years later. They have several properties, including a penthouse apartment and a five-bedroom house in New Jersey.
The keep details of their private life out of the public's eye, but announced on November 28, 2018, that their daughter had been born. The couple didn't specify the exact date.
Please fill in your e-mail so we can share with you our top stories!