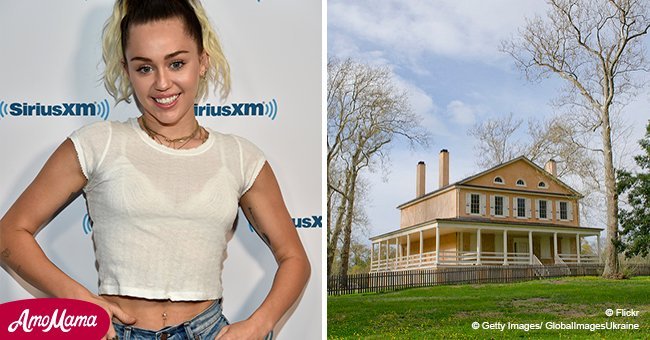 Take a look at Miley Cyrus's new $5.8 million Nashville farmhouse
The singer has bought a new home for herself closer to the one she grew up in.
Miley Cyrus has deep country roots in the state of Tennessee, and although she has loved living in Malibu, California, in recent years, has now purchased a house just south of Nashville.
As reported by Pop Culture, Cyrus bought the house, located on 33.5 acres of land in Franklin, Tennessee, in August 2017.
The ranch cost the singer/actress $5.8 million, and the house itself takes up just 6,869 feet of the area.
This new home is not far from the childhood home Cyrus shared with her country singer father, Billy Ray Cyrus, her mother, Tish Cyrus, and her four siblings.
The farmhouse was built in 2014, and has five bedrooms, four bathrooms - and two more half bathrooms - an elevator, 3-car garage, two fireplaces, and a separate lodge on the property.
The home itself is in complete contrast to what Cyrus has been living in in Malibu for many years now, and boasts a very country feel to it.
The exterior of the house features a wrap-around porch, beautiful wooden beams, and a metal roof. The chimneys of the two fireplaces stand out in contrast from the white exterior with their polished brick finish.
Inside the living area of the home, there are high ceilings for an even more open-plan feel. With leather seating and high beams supporting the ceiling, it certainly seems to be a country oasis.
The kitchen boasts a wooden ceiling, and plenty of storage space with all the cupboards. It also has an island in the center of the room, with bar-stool seating around it.
Cyrus, a devout vegan, will certainly be putting her kitchen to use as she continues her dedication to a life without animal products.
All five of the bedrooms have a beautiful, tranquil feel to them. With light colored walls and carpets, they promote a relaxed atmosphere.
Her bathrooms have a similar feel to the bedrooms, with light interiors and plenty of windows to observe the tranquility of the rest of the ranch.
Cyrus has also gone vintage with the bathrooms, enjoying clawfoot bathtubs and old wooden chairs for decor.
The house also features a sunroom. This room has plenty of large, floor-to-ceiling windows that look out over the swimming pool. Just for a bit of fun, there is also a large wooden swing hanging inside the sunroom!
Outside, there is a beautiful swimming pool surrounded by sunbeds, and outside table, and a putting green.
Please fill in your e-mail so we can share with you our top stories!