Reba McEntire sizzles in a racy sheer dress she wore 25 years ago to perform 'Does He Love You'
The singer pulled an iconic dress from the back of her wardrobe for her recent appearance. 
Reba McEntire hosted the Academy Country Music Awards on April 15, and as any good hostess would, she got the audience laughing, stunned the audience with a throwback performance, and underwent numerous costume changes. 
As reported by People, McEntire performed her classic hit, Does He Love You? with her daughter-in-law Kelly Clarkson, belting out the hit song much to the delight of the audience. 
But it was the outfit she chose to wear for the performance that really caught everyone's eye. 
McEntire had previously performed the same song as a duet with Linda Davis at the 1993 Academy Country Music Awards. On that occasion, she had worn a red velvet dress. 
When McEntire stepped out to perform the song with Clarkson, fans were stunned to see that she was wearing exactly the same dress as she had worn 25 years before! 
The maroon velvet dress featured a plunging neckline all the way down to her waist, filled in with a see-through maroon mesh. The neckline was beautifully embellished with beaded and crystal detail. 
The mesh sleeves were full length, with a flare out at her wrists. Despite the plunging neckline the mesh still rose halfway up her neck. The full skirt of the dress fell all the way to the floor.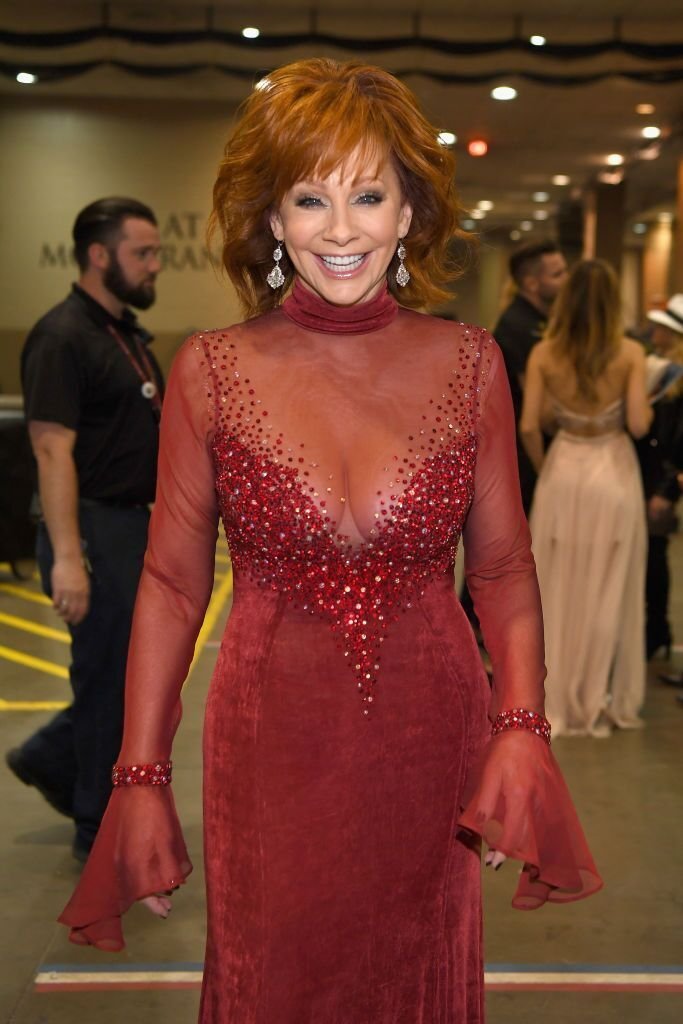 In keeping with her look from the 90's, McEntire had her hair hanging loosely about her shoulders, it has just undergone a few cuts since then! She also wore similar silver drop earrings. 
The dress was designed specifically for McEntire in 1993 by Sandi Spika Borchetta. 
"I really liked the red dress from the '90s," McEntire told People. "It was like seeing an old friend again. When Sandi Spika made that dress for me, I felt like Cinderella."
In total, McEntire changed her outfit an impressive 9 times during the awards show, with plenty of different looks in there as per her "classic with a contemporary twist" request.