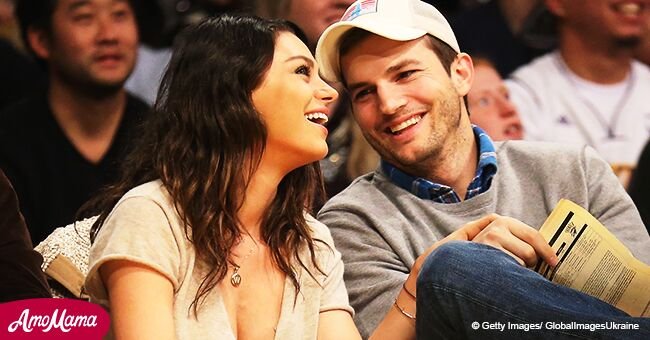 Ashton Kutcher and Mila Kunis were spotted enjoying a lunch date without young kids
Mila Kunis and Ashton Kutcher revealed they take care of their own babies without nannies to help. AmoMama follows up on a story from The Daily Mail in their day out without their children.
Mila Kunis, 34, and Ashton Kutcher, 40, have known each other since their early days on That 70s Show. They dated and got married and now have two beautiful babies; daughter Wyatt, three, and son Dimitri, almost two. They have admitted before to taking care of their children without nannies so that they can instill in them the values they got from their parents.
The couple that is usually low-key was spotted leaving Joans On Third in Studio City on Thursday where they had gone for a lunch date. Ashton was casual in a grey sweatshirt and a green John Deer hat pulled over his face while Mila looked laid back in a dusty blue sweater and navy ball-cap.
Recently, Mila spoke to Ellen DeGeneres the difference between raising boys and girls.
'My boy's like a sloth. He's wonderful, and I love him — 'cause one day he'll probably watch this and be like, 'Why did you say that?' - but the truth is, women are smarter than men. And I have this evidence from my two different humans that I created. Girls are just like, on it and boys are like, dum dum dum. They're just like a little bit more like little linebackers going through life and like Neanderthal-ish.'
The two have been married since July 2015 and have constantly lived a drama-free life. They said in a podcast that they want their children to appreciate the value of money from an early age, and not to grow into entitled adults. Before this marriage, Kutcher was married to Demi Moore for eight years.
Talk to us in comments.
Please fill in your e-mail so we can share with you our top stories!