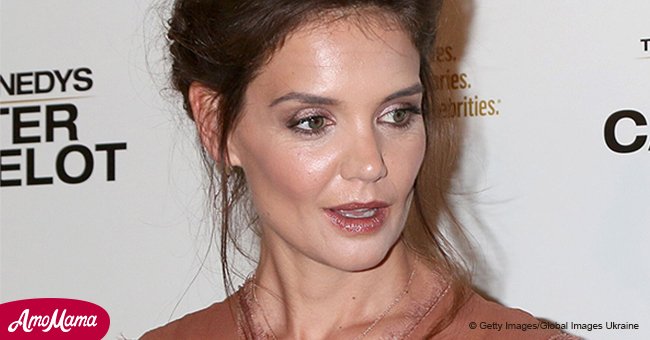 Katie Holmes fans noticed a suspicious detail in her recent photo, 'She looks pregnant'

Katie Holmes might be sporting a baby bump but keeping it away from the public eye. The actress was seen leaving a restaurant with Jamie Foxx.
The 39-year-old actress hasn't officially been in a relationship ever since she and Tom Cruise separated back in 2012, but it has been rumored that she and Foxx may have gotten closer in the past few years.
The two have been spotted together on various occasions, which led people to believe that they were a couple. On Sunday, those suspicious grew stronger, as reported by People.
Holmes and Foxx were caught by the paparazzi leaving the Nobu restaurant, which is located in New York City, in a rare public appearance. Although they went on a date, each stepped out separately.
The actress was wearing a rather odd outfit. She wrapped herself in a purple kimono with white flowers printed on it, as well as a wide-brimmed black hat. Foxx was more casual, wearing a red jacket, jeans and Timberland boots.
Although her attire was considered strange, its purpose raised some questions. Fans didn't miss the opportunity to comment on the snaps taken and many suggested that Holmes was trying to hide a baby bump.
The photos were uploaded to Instagram by a user named hollywoodtattletale, and the post has reached over 418 views. From the 27 people who commented, three stood out.
Users shade_ noire wrote 'she's trying to hide that baby bump,' while cheetahrana_ asked 'is she preggo?' When it comes to the couple's secrecy, user alexisandthecity offered a possible explanation.
After divorcing Tom Cruise, Holmes might have been forced to sign a contract that hindered from being in a relationship in the next 5 years. Although it has never been confirmed, the truth is that Holmes remained low during that period.
Neither Holmes nor Foxx have confirmed that they are together, but the two have been on and off ever since they were spotted dancing together in the Hamptons in 2013.
In September of 2017, they were photographed walking hand-in-hand along a beach in Malibu, and during Foxx's 50th birthday party, in December, they couldn't keep their eyes off each other.
Please fill in your e-mail so we can share with you our top stories!