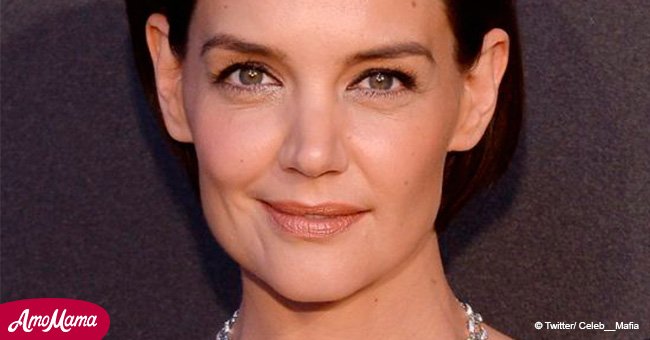 Katie Holmes shows off cleavage in a plunging floral outfit
Katie Holmes is most famously known for her portrayal of Joey Potter in the nineties teen-drama, Dawson's Creek. She turned heads at a recent red carpet event.
Holmes attended the screening of two highly anticipated documentaries - Conducting a Revolution, and The Litas - at the Tribeca Film Festival on April 26, 2018.
As reported by Daily Mail, the 39-year-old actress chose a sophisticated black top and skirt with light grey flower print for the occasion, which gave a glimpse of her midriff.
The shirt featured a plunging neckline and ruffle sleeves which complimented her upper body and toned arms. She wore a matching silver necklace and bracelet.
Holmes completed the outfit with a pair of black high heels while keeping her makeup to a minimum. Just a touch a blush and gloss coupled with shimmering black eyeshadow.
The 2018 Tribeca Film Festival began on April 18 and will conclude on April 29. This year marked the first time that Bulgari joined the festival as the Official TFF Jeweler.
It's only fitting, considering Bulgari's involvement in the film and arts during Hollywood's Golden Era. The company still sponsors the film industry to this day.
According to Forbes, Bulgari collaborated with Tribeca Studios and director Bella Monticelli, to produce Conducting a Revolution and The Litas.
The Litas tell the story of 'three woman in male-dominated professions' - a motorcyclist, a filmmaker, and a police officer. Monticelli hopes thato the powerful message of the film will inspire women 'to define their own paths.'
Holmes is undoubtedly known for defining her own path. The mother-of-one parted ways with Tom Cruise in 2012, her husband of six years, and has been raising their daughter, Suri, on her own.
Fans of Holmes can look forward to her upcoming films. Doorman and is currently in pre-production, while Ocean's 8 and The Gift will be released later this year.
Please fill in your e-mail so we can share with you our top stories!