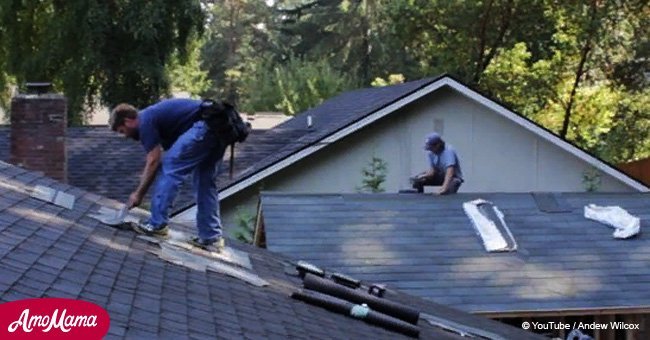 Music starts playing while roofers are working - next move makes this video go viral
A video of a roofer dancing on the roof became viral. He was supposedly busy working but he stopped halfway to bust his moves to his favorite song.
Share Tap revealed that the man who became a viral sensation was Andrew Wilcox. On the video, he can be seen building a shed next to a house together with another roofer.
To keep themselves entertained during their working time, they turned on the speakers and listened to their favorite songs.
Just when the song Bailando by Enrique Iglesias came on, the roofer wasn't able to help himself.
He got up and started dancing, feeling the music as he went. His dance moves were hilarious that people who watched the video threw into boisterous laughter.
For a minute, he focused on his groove, swaying his hips and shaking around with the beat of the music.
Someone was videotaping the whole thing and after some rough cut-and-trim, it was uploaded to YouTube and went viral.
More than a million users watched the hilarious video. A number of them gave enthusiastic comments and complimented Wilcox for his sick moves.
Also, one user, a roofing contractor, gushed that he has his workers take short breaks just to dance and unwind for a short period of time.
Wilcox, the one wearing the darker blue shirt, shifted from roof to roof as he was dancing in the video. He did moves like choo-choo train arms and a lot of hip-swaying. He also did quite a bit of salsa before finally throwing out random and hilarious dance moves.
At one point, he even did a few stunts, which was a bit scary because he was on the roof. Still, he managed to not fall off it.
By the end of the clip, the other roofer also joined him and for a few seconds, they danced together, swaying their hips from side to side.
Please fill in your e-mail so we can share with you our top stories!