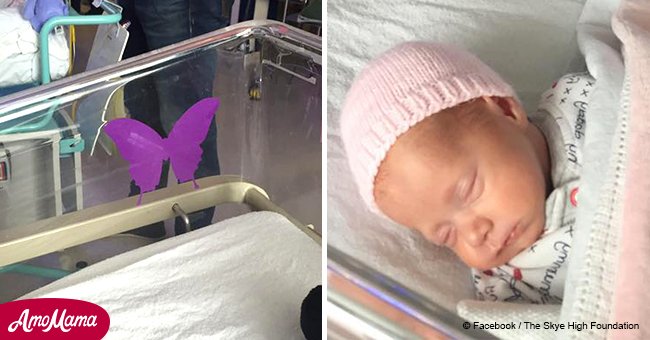 Here's what a purple butterfly on a baby's crib at the hospital means
In the NICU, none of the families around the Smiths knew their tragic loss, but a purple butterfly sticker with a very special meaning can now tell the heartbreaking story.
According to Parenting Isn't Easy, Millie Smith and Lewis Cann first found out she was pregnant in November 2015, and she told her parents she had a feeling that she was having twins.
Twins have run in her family for many generations and for that reason, Smith wasn't surprised after discovering, at 10 weeks, that she was expecting identical twin girls. Smith prepared all seven months to meet both her girls.
Although twins ran in her family, there had yet to be a set of twins born in which both babies survived the birth, which made the couple very wary, preparing for the worst.
Their doctor told them that one of the babies had anencephaly, a neural tube defect in which the upper part of the neural tube does not close all the way, preventing parts of the brain from forming correctly.
There is no cure or treatment and most infants only survive for a very short time after birth. Heartbroken, the couple decided to continue the pregnancy and Smith prepared for an emotional delivery.
Despite being told Skye would not move or make a noise, she came out crying and managed to stay alive for three hours, allowing her parents some time to cuddle her and introduce her to her sister.
One mother-of-twins, who had a particularly overwhelming morning, made a comment in passing to Smith that she was "so lucky" she did not have twins, which cause her to break down and cry.
That is when the Surrey, England–based estate agent came up with the idea to make purple butterfly stickers for NICUs to help identify when a baby has survived the death of one or more multiple-birth siblings.
Smith chose the purple butterfly as her symbol for a multiples loss because she saw the butterfly as a symbol of children who have 'flown away' from this earth and purple was a color that could be representative of both boy and girl babies.
The stickers, which are now at Kingston Hospital, read: 'When visiting this Neonatal unit as either a partner, relative or friend please be aware of the butterfly logo on each cot. This represents a baby that was part of a multiple-pregnancy but sadly all of the babies did not survive.'
Please fill in your e-mail so we can share with you our top stories!