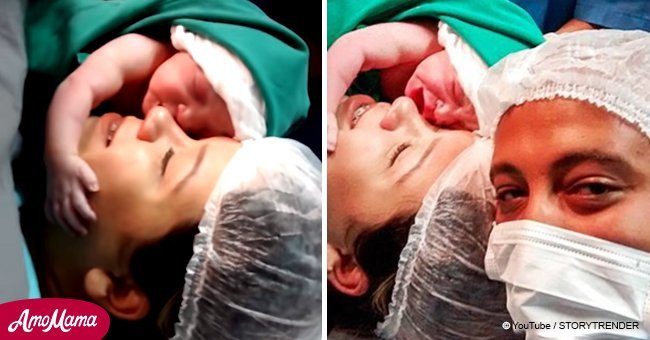 No Headline yet
Here it's a heartwarming video that comes from Brazil. Brenda Coelho de Souza, 24, is the happiest mother on earth by experiencing this right away.
Newborn babies are one of life's most precious miracles. There is just something so innocent about a newly born baby that parents all over the world can relate to. This is why we bring you this lovely story.
An instant emotional connection between a newborn girl and her mom shocked even the medical staff that helped deliver the baby. Luckily, the heartwarming moment was captured by the camera, allowing everyone to take a peek, as So Shared This reported.
On April 5, 2017, Brenda gave birth to her daughter, Agata Ribeiro Coelho, via cesarean section. The medical team placed Agata next to her mom after she was born, and Agata's reaction surprised everyone, according to various media reports.
After Baby Agata was delivered by the doctors and was wrapped in a green blanket, she immediately extended her arm towards her mother's face and hugged it. It seemed like she was thanking her mother for bringing her safely into this world.
Even when they were trying to take the sweet baby away, Agata didn't budge and held on to her mother's face for more than a minute. One of the pictures preserving the moment showed Brenda in complete happiness and peace in her daughter's arms.
Recalling the doctor's reaction, Brenda said: "The medical team were great and were all really surprised that she acted this way. They couldn't believe how affectionate she was with me."
Brenda's husband was also in the operation room and managed to record the beautiful moment between his wife and his newborn daughter with his cell phone camera. He expressed a huge smile knowing how fortunate he is for having them in his life.
This rare and amazing moment only marks the beginning of a wonderful loving relationship between the mother and daughter.
Please fill in your e-mail so we can share with you our top stories!