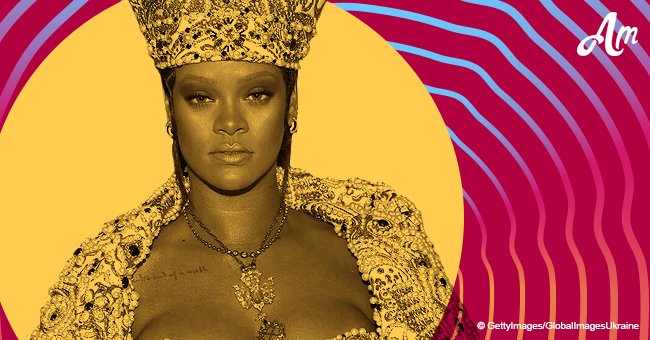 Rihanna drew attention with her strapless mini dress and provocative Pope-style hat
The 30-year-old singer and songwriter, Rihanna, stole the show when she arrived at the Met Gala in New York wearing a beaded outfit similar to the Pope's.
The event, which took place on May 7, 2018, was attended by the likes of Madonna, Kate Perry, Jennifer Lopez, Kim Kardashian and Chadwick Boseman.
The theme for the gala was Heavenly Bodies: Fashion and the Catholic Imagination, and Rihana didn't disappoint. Her arrival was one of the highlights of the evening.
As reported by Daily Mail, she made the biggest statement of the event and 'channeled the Pope' by wearing a Maison Margiela creation cope-style jacket and mini dress.
Her outfit was adorned with pearls and gemstones, and she completed the look with a pair of Louboutin heels and intricate necklace with a jeweled dove pendant.
She drew inspiration from the Pope's cassock and pellegrina and fashioned her headgear into a modern version of the papal tiara and mitre.
The event aimed to explore the fashion industry's 'ongoing engagement with the devotional practices,' and while celebrities dressed for the occasion, many people found the theme to be offensive.
According to Harper's Bazaar, the event was deemed 'inappropriate' despite the fact that the Vatican gave the green light for the Museum to display 50 garments.
Many of the outfits were even supplied by leaders within the Vatican, yet netizens took to Twitter to share their dissatisfaction.
A Twitter user known only as Jessica, said the event was 'lowkey disrespectful to the Catholic religion,' while Imperfect Angels said it was 'disgusting' to have a fashion show inspired by religion.
Allie Beth Stucky labeled the event as 'sacrilegious,' while Ashley Rodriquez pointed out that 'Catholicism is not a theme' or a fashion statement.
Adding a different perspective, a user known as Millennial Alchemist said the theme is fitting because both Hollywood and the Vatican are 'notorious for rape, child abuse, and molestation.'
Cardinal Timothy Dolan attended the press conference for the event and said the Met Gala's theme placed the focus on aspects he supports.
"The Church and the Catholic imagination—the theme of this exhibit—are all about three things: truth, goodness, and beauty. That's why we're into things such as art, culture, music, literature and, yes, even fashion.''
Cardinal Timothy Dalton, Page Six, May 7, 2018.
Please fill in your e-mail so we can share with you our top stories!