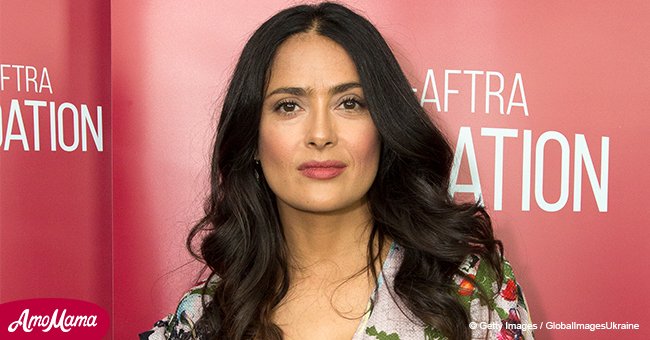 Salma Hayek, 31, looks half her age as she shares stunning photo of herself with flowers
Stunning actress Salma Hayek shared a beautiful photo of herself, and she doesn't look a day above 20.
AmoMama brings to you information sourced from an Instagram post by actress Salma Hayek, where she shared a stunning photo of herself.
With a busy work schedule and family life to balance, it's a wonder how Mexican born actress Salma Hayek has managed to defy the odds of aging.
The beautiful mother-of-one recently showed off her youthful side as she shared a photo of herself enjoying nature.
The 31-year-old was seen in a simple blue frock dress that fit perfectly on her small frame. Her bountiful black locks were styled into a wavy beach style as she had her face covered with a pair of large-framed sunglasses.
The Grown UPS actress was seen taking some time out to smell a vase that contained pink flowers. With one hand on the platform where the plants were and the other raising the vessel to her nose, Salma wowed social media with her striking figure.
One could tell from the photo that Salma has a liking for flowers.
The nature lover captioned the photo, and it read,
'Happy #earthday! Feliz Dia de la Tierra! #Flowers.'
Fans didn't hesitate to shower adoration on the actress as the post received over 100,000 likes.
A fan was quick to note that the flower in the photo was similar to the one she was given in 2017 movie 'Hitman's Bodyguard 2' where she starred alongside Samuel L. Jackson and Ryan Reynolds.
The fan commented writing,
'Almost like the flowers your Cucaracha left for you #hitmansbodyguard2 please.'
Salma played the role of Sonia Kincaid, hot-tempered and eccentric wife of Darius Kincaid, which was played by Samuel L. Jackson.
The film was released on August 28, 2017, and has grossed $176 million worldwide.
Salma's performance was sure something to look out for in the movie.
Salma is happily married to French Billionaire Francois-Henri Pinault, and together they have a gorgeous daughter named Valentina Paloma Pinault.
Please fill in your e-mail so we can share with you our top stories!