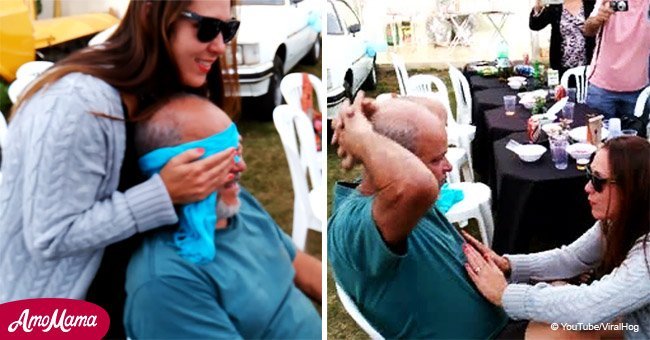 Dad is driven to tears after receiving emotional gift from his daughter
During a family reunion, the children and friends of a man got together and decided to cover his eyes while somebody else was slowly placing a gift in front of him.
Thankfully, those present at the celebration recorded all and it was uploaded to the Viral Hog YouTube channel so everyone could enjoy the man's reaction.
As shown in the video, the gift was a vintage, white car. While receiving such a present from their children was a reason good enough to be excited, the story behind the car was what drove the man and his children to tears.
The vehicle belonged to the man in the past and he loved and cared a lot about it. Unfortunately, the family got into a severe financial crisis and he had to sell it.
With the money he got from the car, he managed to sustain the family, an action that his children – especially his daughter – will never forget.
Coincidentally, she found the car again 12 years after her father sold it and decided to buy it as a way to pay him back for all the things he had to turn his back to in order to raise his children in the best possible way.
When she unfolded her father's eyes, he didn't notice the car in front of him. As soon as she made him look at it, he began laughing. He couldn't hold back his tears, though, especially when everyone applauded.
The man, clearly in shock, needed a couple of minutes to get used to the idea that it was his car. His daughter asked him to get in and start the engine while the 'audience' was recording everything.
Once he got in, it was just like he was recalling what he used to do with the vehicle. When he started the engine, everyone applauded again, a well-deserved recognition for a father who spent his entire life taking care of his family.
Please fill in your e-mail so we can share with you our top stories!