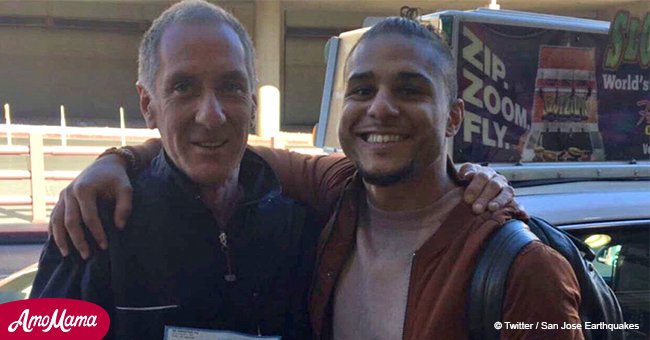 Famous soccer player gives taxi driver a life-changing tip
Kindness united a taxi driver and a professional footballer.
NBC Bay Area reported that San Jose Earthquakes player, Quincy Amarikwa, came forward to help a Las Vegas taxi driver who was behind on his mortgage payments.
Cabbie Pedro Hahamian was surprised when the MLS forward handed him a check for $2,200 as he was stepping out of his taxi.
Amarikwa attended a marketing conference in Las Vegas and was on his way to the airport when he saw an opportunity to help someone in need.
The professional footballer learned that Hahamian was facing some trouble with his mortgage payments.
The taxi driver also shared the changes he had seen in the taxicab industry over the 18 years he was part of it. Hahamian, who hails from Argentina, was facing trouble after the introduction and proliferation of ridesharing services in recent years.
"If there's a way that you can help someone, you need to find a way to do that," said Amarikwa.
The taxi driver initially thought that the check was a joke of some sort. He did not even know who Amarikwa was until then.
As the footballer listened to Hahamian, he realized that he could be some help to the stranger. He knew the man was "a genuinely nice person." He did not take time to understand that Hahamian was kind-hearted and a hard worker.
Amarikwa's decision to help Hahamian was not a one-off deed by the footballer. He makes a conscious effort to put positivity into the world. He strives to be a person of action, rather than just words. He believes that one receives 10-fold of what one puts out.
He hopes to find success in the business world while also helping others make their dreams come true. The plans are to go beyond his athletic career and wants to be able to afford the resources to help those with great ideas and passion for what they love.
Amarikwa decided not to publicize his act of helping out someone in need and the only evidence is a photo posted to his Snapchat account. However, he later shared the story hoping to inspire others to help those in need.
Hahamian was grateful to Amarikwa and revealed that the parting words for him were, "I would love for you to pay it forward the next time you can help someone."
Please fill in your e-mail so we can share with you our top stories!