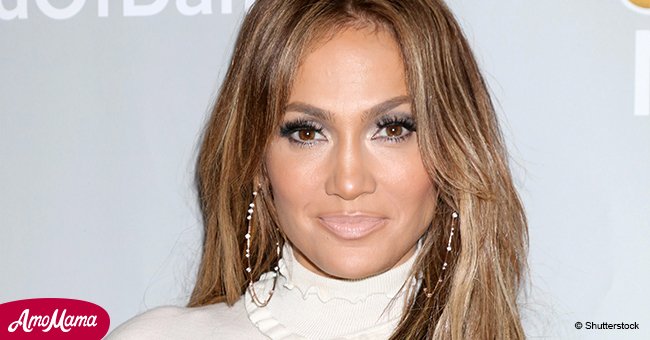 Jennifer Lopez put legs on display in a black gown with a dangerously high slit up its right side
Robin Hood Foundation, known for her sultry voice, youthful looks and envy-inducing figure showed off her toned legs at a recent event in New York. Her figure-hugging dress also drew attention.
Monday night was the day set for helping New York's poor by the Robin Hood Foundation and Jennifer Lopez was among the invited guests. The 48-year-old singer/actress showed up looking her best as usual in a black figure-hugging dress that she paired with a pair of sky-high stilettos.
The black gown had lifted shoulders and a dangerously high slit up its right side that showed off the singer's endless legs. The otherwise black dress was decorated with two glittering gem flowers. The actress slicked her hair back at the front and completed her looks with a pair of dangling earrings. She carried a dazzling bejeweled clutch to match her earrings.
J-Lo's boyfriend, Alex Rodriguez, wore a powder blue jacket over a white dress shirt and no tie. He found the perfect company in retired tennis player John McEnroe, who was dressed in a charcoal suit. Tennis legend Billie Jean King was also in the house as were Michael Douglas and his much younger wife, Catherine Zeta Jones. Once at the event, Douglas found his way to none other than amused-looking Bill and Melinda Gates for a lengthy chat.
Another enchanting couple present at the star-studded event was Oprah Winfrey and her partner of 32 years, Stedman Graham. Joining the couple was Oprah's best friend, Gayle King in a frilly maroon knee-length dress.
Jerry Seinfeld made a family evening of the event as he was spotted sitting at a table with his wife Jessica and their daughter Sascha, 17. Rob Lowe and his glamorous wife of 27 years, Sheryl Berkoff were also present.
The event's comic acts included Michelle Wolf who equally impressed and offended many at this year's year's White House Correspondence Dinner, as well as Comedian Leslie Jones. Oprah spoke at the event as well as SNL's Colin Jost and Michael Che.
Robin Hood Foundation is a non-profit organization dedicated to fighting poverty in New York City.
Talk to us in the comments section.
Please fill in your e-mail so we can share with you our top stories!