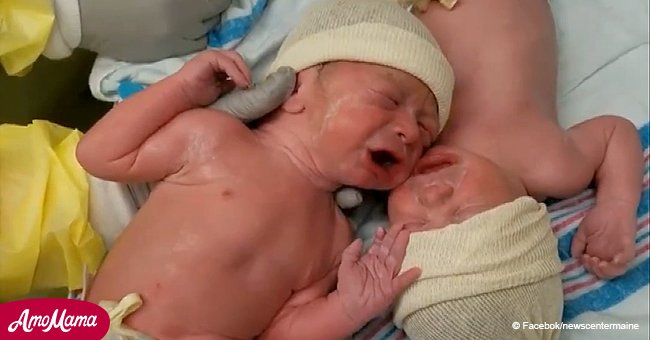 Video shows newborn twins stop crying when they touch each other
A man in Florida hoped that his twin sons would become good friends and support one another always.
Dane Lyman's dream seemed to have come true when he found the two comforting each other moments after their birth, reported News Center Maine.
Dane captured the incredible bond the twin twins, Weston and Caleb Lyman, share in an adorable video.
The babies began screaming when they were separated moments after their birth. However, as soon as the nurses touched their cheeks together, the two fell silent.
Dane and Lisa Lyman welcomed Weston and Caleb on February 25, 2018, in Orlando, Florida. The couple is also parents to two girls, Corinne and Amelia.
When they first learned that they were going to have twins, the couple had hoped that they would grow to be best friends, supporting each other throughout their lives.
"Seeing them comfort each other just moments after birth was almost like the first step in that special relationship."
The proud father revealed that the boys were born four weeks premature, however, they were healthy and there were no complications during the birth.
Dane was curious and wanted to know how much they weighed. Hence, he followed them immediately and decided to capture the moments in the video.
Now, he is glad is caught "one of the sweetest things" on camera.
Lisa is a nurse who is currently staying at home to take care of her growing family, while her husband is a medical school student. He is attending the University of Central Florida.
The parents hope that the special bond the brothers share continues throughout their lives. The way the two comfort each other even months after their birth shows that the parents' dreams could come true.
The video, shared on Facebook, has garnered over five million views after it was posted last month.
Please fill in your e-mail so we can share with you our top stories!