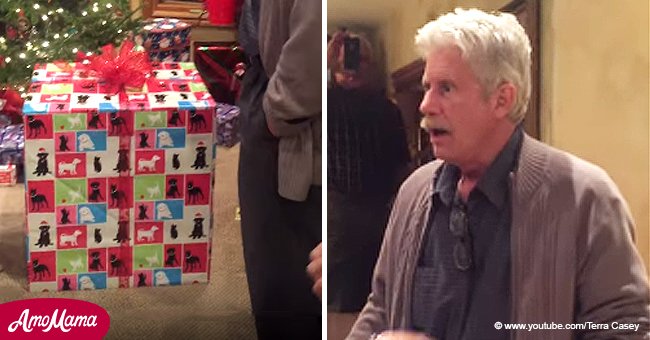 Dad surprised with the perfect gift from a daughter he rarely sees
Terra Casey and her uncle created the best plan to surprise her father. Since they hadn't spent Christmas together in 25 years, the man never expected such gift.
A video uploaded to Casey's YouTube channel showed that a family reunion was taking place. A huge present was next to the small Christmas tree while a man (Casey's uncle) was talking to another man (Casey's father).
Casey's uncle, a two-times cancer survivor whose vocal cords were damaged by the radiation, explained to his brother that people don't visit him regularly because they were too busy.
Of course, he was talking about Casey, but her father wouldn't know it until he got the surprise. Her uncle finally said that he had bought that present as a combined Christmas and 60th birthday gift.
After asking if it was a joke, Casey's father started unwrapping the huge box. Little by little, all those present started getting closer to record everything. Everybody knew what was inside.
When Casey's father finally opened the box, he couldn't believe his eyes. Casey herself emerged from the box wearing a black dress and gave her surprised father a hug that he would never forget.
Trying to find words, all he could say was: 'oh my God!' A couple of seconds later, an obvious question came to his mind, so he asked: 'how long have you been in that box?'
Finally, another member of the family dressed like Santa Claus got in the house. In the description, Casey explained a bit more about the surprise. She pointed out that she and her father live on opposite sides of the U.S., so they could barely see each other.
Casey added that she sent her father a photo showing the view from her apartment on that same day to confuse him but, of course, it was outdated.
Finally, she confessed that she was in the box for about 20 minutes and that her uncle slightly lifted the box from time to time so she could breathe while her father arrived at the house where the reunion was taking place.
Please fill in your e-mail so we can share with you our top stories!