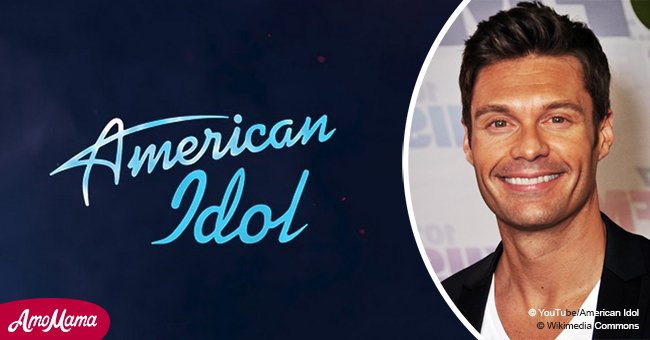 'American Idol' host Ryan Seacrest confuses fans by talking 'awkwardly' to one of the judges
Fans were confused after one of the highest paid TV hosts, Ryan Seacrest, seemingly forgot that the show was back on air after a commercial break.
In a Mother's Day special live episode of American Idol this Sunday, viewers witnessed Seacrest leaning against the judges' table as he talked flirtatiously with judge Katy Perry.
Ryan spoke in a lower volume but his voice was clear in the clip. In continuation of their conversation before the break, Seacrest first complimented Perry's mother and called her 'pretty.'
Perry played along and responded to him in spirit by saying that she hoped that 'the apple did not fall far from the tree.' It seemed that she was aware that they were back live and smiled an winked at the cameras.
Seacrest continued his flirtatious tone and said to Perry that she was pretty too. He added that Perry was not a mother yet to which the California Girls singer prompted, "Not yet!"
Seacrest quickly interjected and asked if she'd like to 'talk about it.' The studio audience was silent but Perry and the Luke Bryan, another judge on the show, shared an awkward laugh.
Judge Lionel Richie prompted to Seacrest, "Don't start," before Perry rhetorically asked Seacrest if the show was back live on air. Seacrest looked behind for a second and gathered his posture realizing the cameras were on.
Followers were quick to respond to the awkward incident they viewed on their television sets. One user, Ira, expressed that he felt uncomfortable and confused by the whole routine between Perry and Seacrest.
Another fan, Patrick Kelly, added that he felt it was not appropriate for Seacrest to ask Perry if she'd like to discuss being a mother with him. Internet user, @povpaul, could not believe that Seacrest insinuated to impregnate Perry.
One more netizen, Jenny Duffy, expressed her disappointment in Seacrest and said that the chat between the two changed things for her. She found Seacrest's behavior 'creepy.'
Some internet users did not take the conversation between Perry and Seacrest seriously. Internet user, Amy Strickland, believed that the awkward banter was just for TV.
Another follower, Shell, defended Seacrest's behavior by saying that he and Perry always had a jovial relationship. She added that even Perry did not mind the comment from the American Idol host.
Even if the conversation was light-hearted flirtation, fans were reminded of Seacrest's recent scandal where Hollywood stylist Suzie Hardy filed a sexual misconduct report against Seacrest in March, as reported by Pop Culture.
Please fill in your e-mail so we can share with you our top stories!