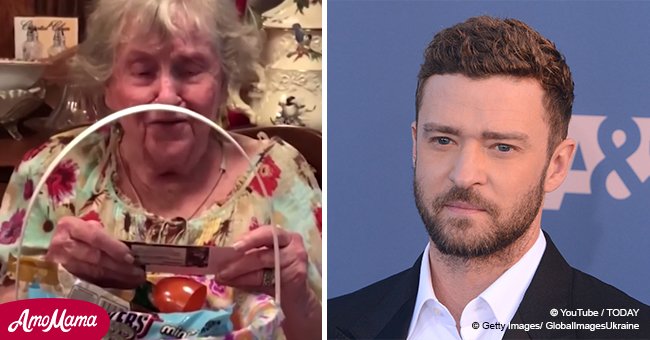 Justin Timberlake gives an 88-year-old grandma an unforgettable surprise visit
As part of the Man of the Woods tour, Justin Timberlake met the 88-year-old Florida resident Bette Maloney at the Amway Center recently.
Maloney, also known as Nammie, became an overnight Internet sensation when her granddaughter, Sarah Watson, took to Instagram to share a video of her grandmother back in April.
'It's for real for real. We're going to @justintimberlake on May 14!!!' she captioned the video that shows the 88-year-old's excitement over receiving Timberlake's tickets.
When the SexyBack singer saw the viral video, he decided to meet Maloney in person, as reported by E News.
Watson immediately shared the special moment on Instagram along with a photo of her grandmother posing with Timberlake.
'He's a class act, y'all. Humbled by and beyond grateful for all the love shown to sweet Nammie tonight,' she wrote.
Watson added that Timberlake 'was kind, lovely and wayyyyyy cute in person.'
She continued that meeting the Grammy Award winner was the best night of their lives and that his concert was the best concert they have ever seen.
Timberlake, who rose to fame as one of the two lead vocalists and youngest member of NSYNC, didn't just pose for photos with Maloney, but they also have a conversation.
And while performing on stage, he also gave her a shout out.
Timberlake said: "There was a pretty little lady that ended up on the news here by the name of Nammie. She is 88 years old."
"I met her earlier tonight. Wherever you are in the audience tonight, there she is, I love you," he added.
Before the night was over, the 88-year-old was able to present a hand-crafted shirt for Timberlake's son, Silas Timberlake. She also got a kiss on the cheek from her favorite musician, according to E News.
'He was absolutely beyond delightful, and the most gracious and kind,' Watson added on Instagram Stories. 'He was incredibly sweet to Nammie and all of us.'
Please fill in your e-mail so we can share with you our top stories!