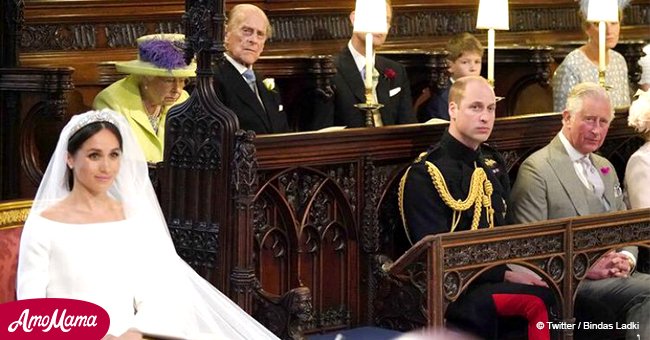 The real reason why seat next to Prince William left empty at Royal wedding
When royal wedding watchers noticed the empty seat, they immediately began to speculate as to why such an important seat would be vacant.
Prince Harry and his wife, Meghan, Duchess of Sussex, married in St George's Chapel at Windsor Castle on May 19, 2018. As they said their vows, many noticed an empty chair in the very front row, next to Prince William.
As reported by People, many believed that the seat had been left empty in honor of the late Princess Diana, Harry's mother, who would have loved watching her son tie the knot.
But the true reason for the seat was actually much less sentimental than most people thought: The chair was simply left vacant so that Queen Elizabeth would have a clear view of the proceedings from the second row of the chapel.
This was an unncessary allowance in 2011 when Prince William married his wife, Catherine, Duchess of Cambridge, as Her Majesty was seated in the front row on that occasion.
Even though the newlyweds had not honored Harry's mother in the seating chart, they ensured that she was present on their special day in other ways.
The flowers chosen for the event included white roses, which were one of Diana's favorite flowers. The roses were planted at her home of Kensington Palace in her honor many years ago, and they still grow there today.
Harry also personally picked some flowers from his and Meghan's Kensington Palace home to be added to her bridal bouquet, and opted for another of his mother's favorites, forget-me-nots.
The couple also ensured they invited all three of Diana's siblings, and invited her older sister, Lady Jane Fellowes, the opportunity to give a speech for them during the ceremony.
Kensington Palace released a statement from the couple earlier in May, in which they said they "feel honored that Lady Jane will be representing her family and helping to celebrate the memory of the late Princess on the wedding day."
Please fill in your e-mail so we can share with you our top stories!