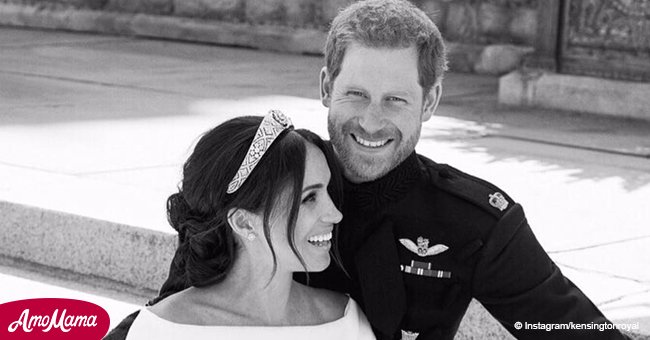 Royal fans spot a 'mistake' in Prince Harry and Meghan's official wedding portraits
Meghan Markle and Prince Harry's fans couldn't contain their excitement when the official wedding photos were published.
Meghan Markle and Prince Harry looked radiant as they sat on the couch in Windsor castle, first flanked by their family members, then by their page boys and bridesmaids, however, fans couldn't help but focus on one little detail, as Daily Mail reported.
Eagle-eyed viewers noticed that one of the flower girls at Prince Harry and Meghan Markle's wedding appeared to lose her bouquet. It seemed that was Little Florence Van Cutsem who was seen without her flowers in the official royal wedding pictures.
In one particular photo taken by photographer Alexi Lubomirski, which features the senior royal family and the page boys and flower girls, royal fans noticed that four-year-old Ivy Mulroney and three-year-old Florence van Cutsem are sharing a bouquet.
The mystery of the flowers can be answered by rewinding to the wedding just a few hours before the picture was taken. It was Florence's fellow bridesmaid Ivy Mulroney who appeared to have forgotten her bouquet as she walked behind the bride down the aisle.
Ivy, who's the daughter of Meghan's best friend Jessica Mulroney, was responsible for taking Meghan's flowers once the bride has reached the altar, and that is the reason she didn't have her own bouquet during the ceremony.
Additionally, Ivy didn't wear a flower crown like the other bridesmaids because she simply had a different hairstyle for the day. She chose to wear flowers in the back of her hair instead of in a garland style.
Gorgeous Ivy was joined in the wedding party by nine other little ones, including mini royals Prince George and Princess Charlotte, who all locked arms as they proceeded behind Meghan up the aisle.
Harry's goddaughter Zallie Warren was the youngest bridesmaid at age two and stayed close to Meghan's goddaughters Remi Litt, six, and Rylan Litt, seven, who were seen linking arms with Ivy and Florence.
Please fill in your e-mail so we can share with you our top stories!