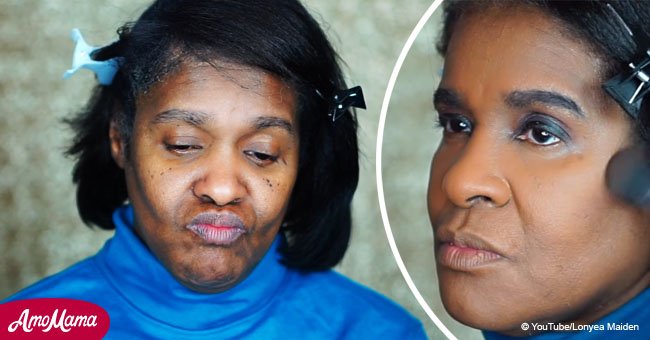 YouTube makeup artist gave 62-year-old grandma complete transformation

Beauty lies in the eyes of the beholder. Lonyea Maiden saw it in her 62-year-old grandmother and used her skills to shock everyone.
Known for her YouTube makeup tutorials, 22-year-old Maiden uploaded a video on her channel featuring her grandmother, Mary Jackson, and accentuated her facial features with transformational makeup on March 8, 2017.
The video started with a fun-filled intro shot after completing the makeover. Maiden's grandmother introduced herself to the viewers and welcoming them to her channel.
Her grandmother believed that Maiden did a wonderful job of transforming her using her makeup skills. She also revealed that she'd feature on the channel every month with different themes.
Maiden showed up in the video behind her grandmother and introduced Jackson as the two shared some laughs before the viewers could see the entire process of Jackson's makeover.
Maiden started off by adding a dark tone to Jackson's eyebrows. She did not carve out her eyebrows because she did not want her 62-year-old grandmother's makeup look over-the-top.
She then used the two-faced concealer in the deep shade over her eyelids and blended it with a brush used to prime her for eyeshadow. She then used a warm purple shade as the eyeshadow that perfectly matched her skin tone.
Maiden then put on a reflecting dual-chrome on her eyelids so that they could stand out. She followed it up by using eyeliner.
Maiden laid the foundation and concealer on Jackson's face and then used minimal contouring to highlight her jawline and cheekbones. Jackson was completely transformed after her granddaughter finished it up with lip color.
22-year-old Maiden has been wearing makeup since 5th grade and loves every aspect of beauty, as written in the About section of her channel.
She is a certified freelance makeup artist and currently works as a Beauty Consultant at Walgreens.
Please fill in your e-mail so we can share with you our top stories!