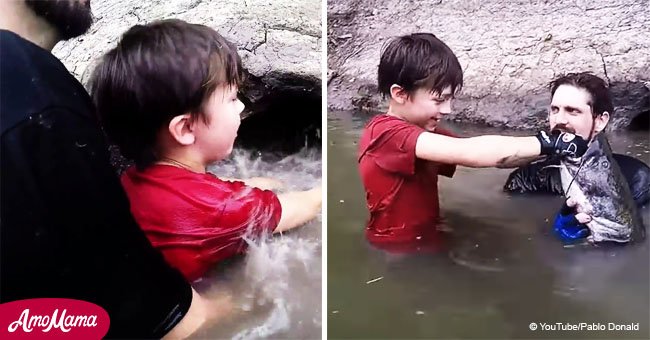 Dad filmed 8-year-old catching 23 lb catfish by hand
It is often said that parents teach their children useful things in life. The father of 8-year-old Joseph took him to a river in Kansas to teach him how to catfish by hand.
In a video uploaded to Pablo Donald's YouTube channel, Joseph and his father are seen in the water in front of a small hole. The man, knowing that catfishes tend to choose similar areas to rest, knew that there was one hiding there.
When Joseph got closer to the hole, he wasn't sure if there was a catfish as he couldn't see it. His father told him that the fish could see him and all he had to do was placing his hand in the hole 'really easy.'
At one point, Joseph seemed to be slightly scared and he wasn't completely sure about putting his hand inside the hole. Everything changed when he felt the catfish for the first time.
It was like catching it became the only thing in his mind as he placed his entire arm in the hole trying to be bitten by the animal so he could pull it out. A couple of seconds later, he got it, but since he was using only one hand, he lost it.
Joseph's father told him to use both hands so he could have a better grip. When he did that, he grabbed it a few more times but the fish kept getting loose.
After calmly placing his hands in the hole for a couple of seconds, the catfish bit his hands and he finally grabbed it. When he was holding it high, it drastically moved and Joseph's father told him to let it go.
The child managed to catch it again but the catfish was fighting hard. Finally, Joseph grabbed it again with a good and strong grip, so he pulled it out and his father helped him put a string on it.
At the end of the video, Joseph was proudly walking to where his mother was to show her the catfish he had caught himself with his hands.
Please fill in your e-mail so we can share with you our top stories!