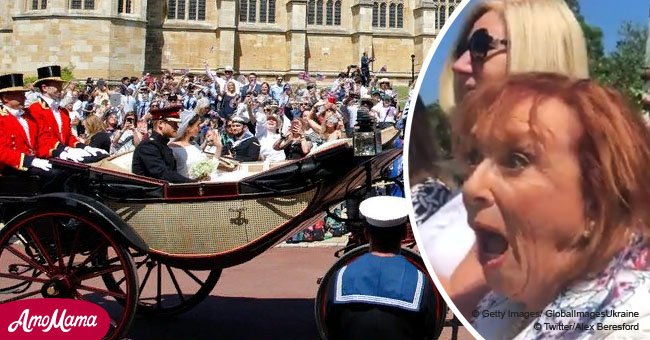 Duchess Markle was surprised to see her old teacher in the wedding crowd
Meghan Markle recognized her old drama teacher Gigi Perreau during the Royal Wedding procession.
Alex Beresford captured the exact moment and shared it on his personal Twitter account on May 19, 2018.
Beresford captioned the post: '"Oh my God" screams Meghan as her old drama teacher Gigi Perreau manages to catch her eye in the crowd! Two seconds before I said do you think she'd recognise you! She was right!'
In the heartwarming clip, the new Duchess of Sussex is seen gasping when she saw Perreau, 77, amongst the well-wishers lining the streets of Windsor
Perreau was also delighted to be spotted by the new Royal. She was in London at the time to contribute for ITV's wedding coverage.
When one of the spectators told her that Meghan saw her, Perreau said: "I know!"
The video has already been viewed 256,000 times since it was posted. A lot of netizens also placed their thoughts via comments.
Kylie Jenkins wrote: 'I'm so thrilled you captured that moment!! Gigi, you look gorgeous! I'm so happy Meghan saw you and so proud to be a #pandasister today. #pandapower!'
'I love that she saw her teacher! Teachers are special people to a lot of people. I have some teachers I'll never forget and love dearly. That's awesome,' Shara Dixon added.
According to The Sun, Perreau was a star during the 1940s and she mentored Meghan in the craft long before the newlywed was picked to star on the legal drama series, Suits.
Perreau first appeared in the film, Madam Curie, when she was only two years old.
She shot to fame in The Donna Reid Show and The Betty Hutton Show. The shows earned her a star on the Hollywood Walk of Fame.
In an interview with Leslie Carroll for the book, American Princess: The Love Story of Meghan Markle and Prince Harry, Perreau said that she always knew Meghan would be "something special."
The actress-turned-coach described Meghan as a "lovely girl and very hardworking."
Please fill in your e-mail so we can share with you our top stories!