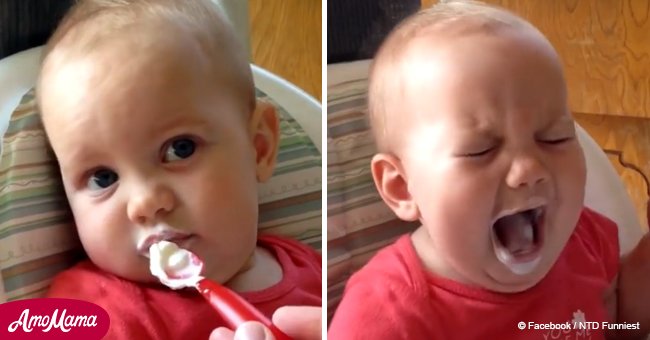 Video compilation shows babies trying new food for the first time
Many parents believe that giving their children new foods to try at a young age is important for their development.
Since baby's reactions might be funny and unexpected, some parents chose to record everything and post it on the Internet. The Facebook page NTD Funniest put together a couple of them and created a three-minute video that became viral in no time.
The first baby that appears in the compilation was given applesauce to try for the first time. While many consider it is a delicious food, the facial expression of that baby set clear that he was not a fan.
Next, another one was trying yogurt. Depending on the type, it could be slightly acid, something that the little girl in the video didn't like at all as she opened her mouth wide and wrinkled.
While most babies like fruits, one of the videos showed that a boy basically spat some pear juice. Something completely different happened when a parent put in their baby's mouth some lemon.
His initial reaction was as expected: eyes and mouth closed and a slight but quick movement of the entire body. However, the baby surprised his parent when he started laughing just as if he was asking for another bite.
Babies reacted in a similar way when they tried acid fruits, including strawberries, blueberry, and mango. One of them was given broccoli and as soon as he put it in his mouth, he realized that vegetables were not his thing.
Then, the baby slowly put it away and tossed it to the ground. Not all of them refused to eat, though, as one baby boy kept biting an orange slice even when his mother was trying to put it away.
Some people like avocado and some other don't. One of the babies in the video chose not to give it a try as he didn't even open his mouth for it. Other foods that the babies tried include eggs, carrots, grapefruit, and butternut squash.
Please fill in your e-mail so we can share with you our top stories!