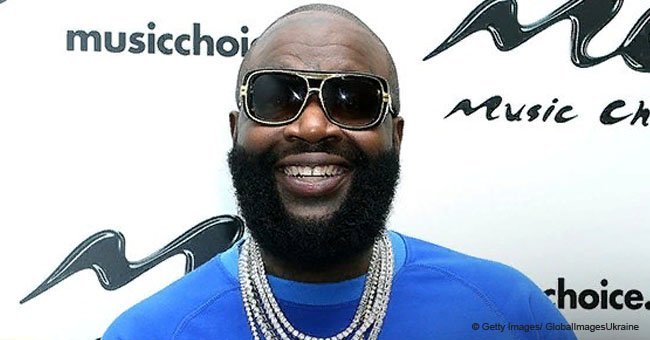 Rick Ross' eldest daughter heads off to prom in see-through silver dress and diamond tiara
Rick Ross' eldest daughter headed to prom looking like an elegantly beautiful princess just two days ago, and the father-and-daughter duo shared photos from the milestone event on their respective Instagram accounts.
Toie Ross looked like royalty as she stepped out for her highschool prom in a sparkling silver gown with a diamond tiara on her head.
The 16-year-old daughter of Rick Ross looked stunning as she posed alongside her date, who accented her elegant ensemble with a pair of glittery silver Gucci ace sneakers.
"ain't nomore being humble, put it in they face. #prom2018"
The proud father was in awe of his daughter's beauty, posting a solo photo of her on his Instagram account, calling her "[Young] royalty".
To accessorize her already extravagant sheer silver gown, the young princess donned matching silver strappy heels, a diamond necklace, and a large diamond tiara.
She kept her nails neatly manicured in white nailpolish, which blended well with her attire.
Toie also shared a carousel of photos on her Instagram, taken by the fans and supporters around her who were present to see her off for prom.
She went on to thank all those who completed her look and made sure she looked her best for her prom night.
"i rock flawless diamonds, pls accept my flaws. #notmyyear#prom2018 face: @alluring_glams hair: @alluringhands_cc: @abcdommyz dress: by my goddy @taliacoles"
Just recently, Toie celebrated her 16th birthday in the only way she knew how - an extravagant party hosted by her dad.
At the end of her fun-filled celebration, she made sure to thank her father for everything that he has done for her.
"honestly couldn't have asked for a better birthday party. a huge thanks & appreciation to my parents for EVERYTHING! and thank u to everyone who came! & a big thanks to @karleenroyand @thevanitygroup for making my dream party come true. i'm truly highly blessed. #bentleybabe #toiesweet16#LongLiveBlackBo"
Toie is truly a certified daddy's girl, and she is evidently not afraid to show it to the world.
Please fill in your e-mail so we can share with you our top stories!