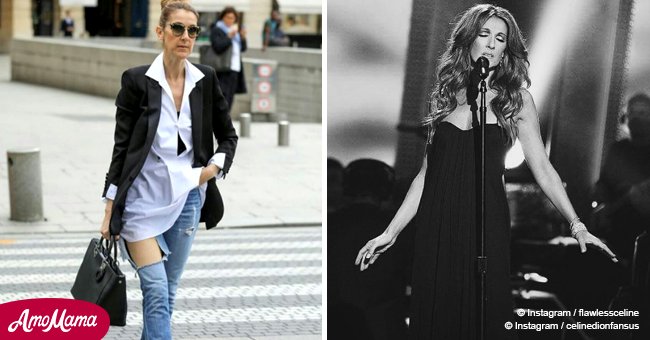 Celine Dion finally returned to the stage after undergoing surgery
After having to cancel a number of shows to undergo and recover from surgery, she is finally back in the place she feels most at home: on the stage.
In March 2018 Celine Dion announced that she would have to pull out of a few weeks worth of shows due to a middle ear condition known as Patulous Eustachian tube, which causes hearing irregularities.
As reported by ET Online, the condition makes it near impossible to sing, and Dion had to cancel shows from March 27 through to April 18 as she underwent surgery to correct the problem.
But when she returned to the stage, no one would have been any the wiser that she had a health problem just a few weeks back.
Speaking to her audience, Dion admitted she had been nervous to return to the stage, concerned that no one would bother to attend her shows for fear that she may cancel again.
"It doesn't matter how long you've done a show. Every time you do a show you get nervous and I do have butterflies tonight," she continued. "You wonder, 'Will the people still come? Are they gonna say, 'What if she cancels tonight?' Will they stay home?' I don't take anything for granted. You can see so many shows in Vegas and I'm so very grateful."
Dion returned to her Las Vegas residency where she performs at The Colosseum at Caesars Palace, and her first returning show took place on May 22.
During her performance, she also debuted her new song, Ashes, which features in the hit blockbuster film Deadpool 2. The song already has a hilarious music video, featuring Deadpool performing an interpretive dance in the background.
An unnamed source also told ET Online that Dion's sons, 17-year-old Rene-Charles, and 7-year-old twins Eddy and Nelson, have been instrumental to the My Heart Will Go On singer during her recovery.
Rene-Charles has recently started his own career in the music industry, under the pseudonym Big Tip, as a rapper. He started with covering The Weeknd's songs Sidewalks and Loft Music.
He has since also released an original song, New & Hot, which topped the R&B and Soul charts recently.
Please fill in your e-mail so we can share with you our top stories!