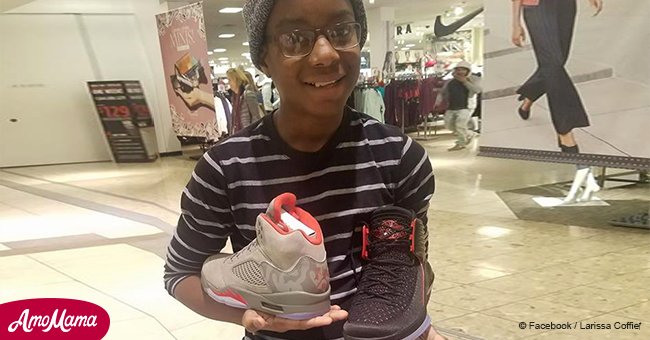 Football player Marcus Peters bought shoes for young boy as an act of kindness
Kansas City Chiefs cornerback Marcus Peters shocked a family with an act of kindness.
41 KSHB reported that a family at Oak Park Mall, in Overland Park, was shopping for formal wear when they had an unforgettable encounter with the footballer.
Larissa Coffie and her 12-year-old son, ZaMarion, were at the mall for some shopping when the little one wanted to take a look in Footaction.
A pair of shoes quickly caught his attention and ZaMarion got them over to show them to his mother, describing them as "the best shoes ever."
Coffie had a look at them and asked her son to put them down which he did obediently. However, the boy's action caught the attention of a stranger in the store.
The man told Coffie that it was very nice of the little boy. The mother joked with the man and asked if he was going to buy the shoes for her son. She was caught off-guard when he agreed.
He said that he would buy the air of Air Jordans 32s because her son was respectful. The stranger then handed little ZaMarion two pairs of shoes.
Coffie asked the man his name and he only told her his first name, Marcus. She went back home and shared her experience on social media, unaware that it was the KCC cornerback she had just met.
She only realized who it really was when a friend on Facebook asked her if it was Marcus Peters. She said, "As soon as he said the name, his face flashed right there."
Coffie also revealed that Peters refused to take a picture and did not want any extra recognition.
She was then able to connect the dots and remembered that he was "covered up" and had a cap and hoodie on. The mother thought that he was trying not to be seen and was really a humble person.
Coffie hopes that her son will remember the encounter for a long time. She added that the family was grateful to the man for not trying to boast about who he was.
She described him as an angel that "popped in and popped out."
As for the Kansas City Chiefs, these are acts they are familiar with and said that it was nothing new for Peters.
Please fill in your e-mail so we can share with you our top stories!