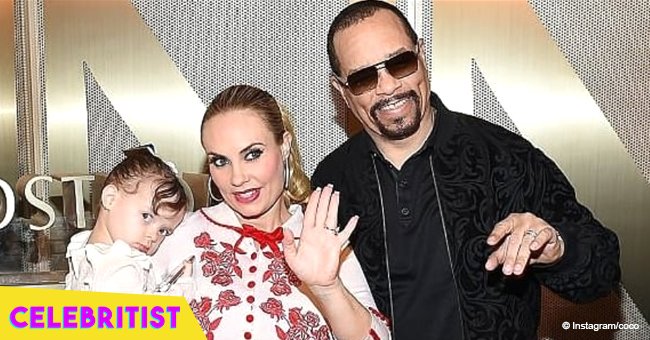 Ice-T and Coco's 2-year-old daughter shows off yoga skills in recent pic with cousin
Ice-T and Coco's 2-year-old daughter Chanel shows off her yoga skills with her older cousin Lily. According to Coco, the girls were mimicking the way she would do yoga in their home, and that she is thrilled that her daughter loves yoga.
Ever since Coco gave birth to her baby girl Chanel Nicole, she has been so excited to share bits and pieces of her life to their fans on social media. Immediately after birth, she would share adorable photos of the little baby even while they were in the hospital.
"Just born and sharing a skin to skin contact moment with Mom"
Fans were so amazed when Ice-T and Coco shared their first family photo just five minutes after Chanel was brought into the world, sleeping soundly in her mother's arms.
Chanel has grown up to be an adorable child, transitioning from the calm and serene looking baby to a happy and outgoing little girl.
Recently, the proud mom shared a photo of her little tot doing yoga with her cousin Lily. In the photo, Lily is lifting Chanel up in the air as they both smiled for the picture.
"Chanel and her cousin Lily... Kids mimic everything. I love how Chanel loves yoga! #acroyoga(Chanel is 2 1/2 years old now..people were asking the other day. Her page is @babychanelnicole )"
Growing up to be such a fashion icon, Coco has been dressing Chanel in the most adorable outfits. However, it seems her little one just can't wait to grow up as she was spotted in her mom's massive shoe cabinet trying on one of her heels.
"Look who I found in my shoe closet last night....I caught her off guard and her first reaction was to start posing ..I just Cant with this child.. #HandonHipPose #OverTheShoulder"
Coco Austin and Ice-T have been married since January 2002, and renewed their vows in Hollywood on June 4, 2011. The couple has starred in their own reality TV series called "Ice Loves Coco", and it ran for three seasons from 2011 to 2014. A year after their show ended, they announced that their daughter Chanel Nicole was born on November 2015. The couple and their child reside in New Jersey, where they built a five-bedroom home.
Please fill in your e-mail so we can share with you our top stories!