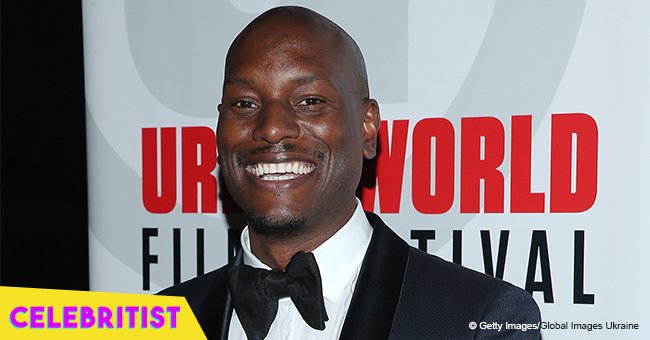 Tyrese Gibson's wife flaunts growing baby bump in navy blue dress
Tyrese Gibson knows his wife is beautiful, and he is not afraid to show it off. In one of his recent posts on Instagram, the proud husband shared a gorgeous photo of Samantha sporting a navy blue dress, celebrating the 6th month mark of her pregnancy to their little girl.
It wasn't until after being pregnant for two months that Samantha Gibson found out that she was actually pregnant. Minutes after her test revealed it was positive, Tyrese arrived home and they celebrated together.
It wasn't long after they began trying to conceive that she actually did get pregnant, and the parents-to-be were equally ecstatic about the news.
Just a month after learning she was pregnant, Samantha then found out that she and Tyrese were expecting a baby girl, as they revealed to People.
In a joint interview, the happy and expectant couple gushed about their future daughter. Gibson shared how happy he is that they are now bounded in love and through their child, and that he is excited to be a family forever.
"Both of our love and energy and magic and families are bonded forever because we're going to have this child. It's unbelievable."
When sharing what his reaction was when he found out his beautiful wife was pregnant, all he could say was:
"It was me screaming and just being overly excited and just fired up about the news."
Friends and family of the expectant couple were also very excited for the newest addition to their family to come, especially Samantha's mom.
"There was no greater reaction than her mom's reaction. Samantha is her only daughter, and this has been prayers for years and years, for her to get married and find the right one and start a family."
Now in her second trimester, Mrs. Gibson is due to give birth on September, and she is on full-practicing mode with her 10-year-old stepdaughter Shayla, whom she considers her own child.
While she plans to give birth in Los Angeles, the Gibsons will be raising their child in Georgia, in the same house that the couple previously got married in.
"We were able to concieve at the right time, I believe. There was a lot that happened last year — everyone is aware of that — and so to have the opportunity to … really start a new chapter in the way that has happened, I just look to God and I'm like, 'Wow, I can't believe that you would plan it this way and you do it so perfectly.'"
Tyrese Gibson was first married to Norma Gibson from 2007 to 2009, and the two share one daughter together named Shayla Somer Gibson. A good eight years later, Tyrese married his second wife Samantha Lee Gibson, and the two are now expecting a little girl.
Please fill in your e-mail so we can share with you our top stories!