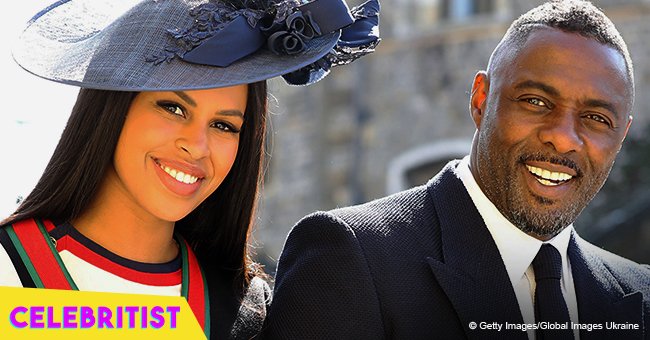 Idris Elba's fiancée puts long legs on display while on vacation in recent pics
Idris Elba surprised fans earlier this year when he proposed to his model girlfriend, Sabrina Dhowre, on a screening of his film "Yardie." The stunning woman said yes, of course, and the couple has been flaunting their love all over social media since then. Sabrina is currently on vacation without Idris, but she is making sure he misses her with her sizzling photos.
Celebritist learned from Sabrina Dhwore's Instagram account that the catwalk beauty is currently enjoying some time away from her fiancé as she basks under the Caribbean sun alongside some of her girlfriends.
The 29-years-old former Miss Vancouver has been sharing photos of her getaway to Punta Cana, on the Dominican Republic and fans can't stop mentioning Idris and stating just how lucky he is to have found such a beautiful woman.
Sabrina knows how to keep it classy but sexy, as she flaunts her toned legs and curves while posing in a flowing dress on the beach, and a bathrobe in the balcony of her hotel room, where she posed coolly with her friends.
Idris and Sabrina made public their relationship in September 2017, when they stepped hand in hand to the red carpet for the premiere party for Idris' film "Molly's Game," at the 2017 Toronto Film Festival. However, the couple has been allegedly dating since March last year, keeping their relationship on the low.
Idris, who has been married once before, and even though he had already stated that marriage was not for him, Sabrina must have made an impact on the actor, because he proposed last February in front of a live audience.Elba was promoting his film "Yardie" and surprised some fans at a screening on Rio Cinema in Dalston, London.
Sabrina was with him, and in the end, the real surprise came for her when he kneeled and popped the question in front of everyone.
Even though they haven't announced an official date to the marriage yet, the couple seems to be going stronger than ever. They recently attended the exclusive Royal Wedding between Meghan Markle and Prince Harry, thanks to the connections that Elba has with the royal family.
He's an ambassador for Prince Charles' program, the Prince's Trust, which helps young men across to country to fulfill their dreams by proving financial aid.
Sabrina got some critics for the outfit she chose to the luxurious event, but Elba was not having it and he reassured his fiancé publicly with an Instagram post, that she looked gorgeous that day.
We're glad to know that Sabrina and Idris are still going strong and that they not one of those couples that can't have fun without the other, as proved by the model's stunning vacations pics.
Do you think Idris and Sabrina make a cute couple?
Please fill in your e-mail so we can share with you our top stories!