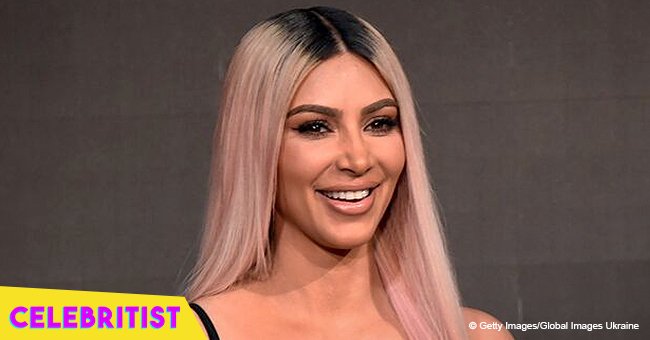 Kim Kardashian's daughter North steals hearts in new selfie with mom
Kim Kardashian and her eldest daughter North seem to be spending the most time together, as the proud mom shared yet another selfie with her this week.
While she has said that she loves all her children equally, she hinted yet again that her first born is number one. In an Instagram post, the reality TV star posed next to North and captioned it "My bestie" with two hearts.
In their mother-and-daughter selfie, they could be seen laying in bed wearing matching white tank tops. Little North put on denim overalls on top of her tank, while her mother wore some gold jewelry around her neck. This comes right after Kim shared several photos of North while visiting Kanye in Wyoming, where he has been working on two new albums.
While Kim posts photos of Chicago and Saint like the ones on Easter Sunday, she posts much more photos of her first daughter North.
When Kim does share photos of her two other children, Saint and Chi always look sweet and adorable. In one particular photo, a little Saint dressed in a Mickey Mouse onesie could be seen hugging Chicago while they're laying on a couch.
"Sometimes we all need hugs"
A few weeks ago, a photo posted by Kim received some serious backlash from fans after seeing that it was extremely dangerous for her two children.
In the photo, Saint and North could be seen hugging each other while naked in a bath tub.
People were quick to warn Kim about the cases of pedophiles selling the photos online to gain money, or even for personal collections.
"Somethings shouldn't be posted. This is one. This is something you kinda save on your camera roll."
"What is WRONG WITH YOU!!?? No no!! Do u know sickos steal pics like this and sale them online?? To pedophilles!! Watch the documentary. This is a cute pic but not to post on IG!! Where is your brain!!!"
"Beautiful kids. Fame cannot be this out of touch though. Documentary after documentary, pedophile after pedophile, child killer after child killer reminds us that photos like these go into their collections. They don't even have to be physically harming your children, they pleasure themselves by looking at photos of unclothed children. It is a sick, devastating idea...but it is the state of our sick country."
Not making a big fuss over it, Kim has kept the controversial on her feed, and has kept the comments on as well.
While Kim has proudly been sharing videos of her children, she recently gushed over her husband Kanye during their fourth wedding anniversary.
In a never before seen photo from their wedding in Italy last 2014, Kim wrote:
"4 years down and forever to go.... Thank you babe for giving me our family and caring so much about us. Thank you for inspiring me on a daily, I'm so lucky. I can't wait for forever... Happy Anniversary"
Kim Kardashian and Kanye West exchanged vows in Forte di Belvedere in Florence, Italy, last May 24, 2014. Since then, they have shared three children together, North, 4, Saint, 2, and Chicago, 4 months.
Please fill in your e-mail so we can share with you our top stories!