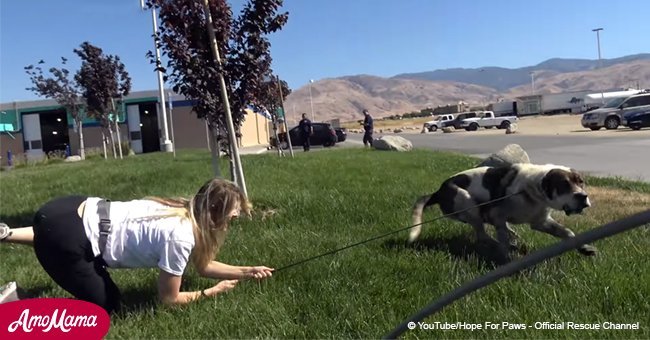 Woman dragged by 110-lb dog during rescue attempt
Rescuing an animal in need is not always an easy task. And it gets even trickier when the animal is scared and alone.
A team of rescuers from Hope for Paws struggle to get an abandoned 110-pound dog, named Gershwin, under control. According to a video uploaded to YouTube by the organization, the dog survived alone for two months long in the desert.
Their first effort to put a leash on Gershwin fails as the dog quickly manages to evade the rescuers and run away.
After several moments of following it, the team of rescuers finally track it down and decide to make a second attempt at putting a leash on it.
Rescuer Loreta Frankonyte goes alone this time around to try to make the dog calm down. She approaches the dog, offering it food while trying to be friendly.
She waited on the sewer soaked grass patiently so that the dog would get familiar with her presence and would remain calm as she tried to save her.
Despite all her efforts, when she actually puts a leash on the dog, it gives away a fearful cry and tries to run away, dragging Frankonyte behind with him.
Another rescuer rushes to her help and tries to put another leash around Gershwin who is now whimpering and barking at the woman, trying to make an escape.
Both the rescuers know how dangerous this situation can be. So they try to put the dog in the center with the two of them holding the leash at the opposite ends.
All the while, they are also trying to calm the dog down with their voices, knowing full well that the animal must be badly scared at the moment.
Finally, Gershwin is calm enough to walk with them to the rescue van. From there, the duo takes the dog to their rescue center, where he was given further treatment.
Please fill in your e-mail so we can share with you our top stories!