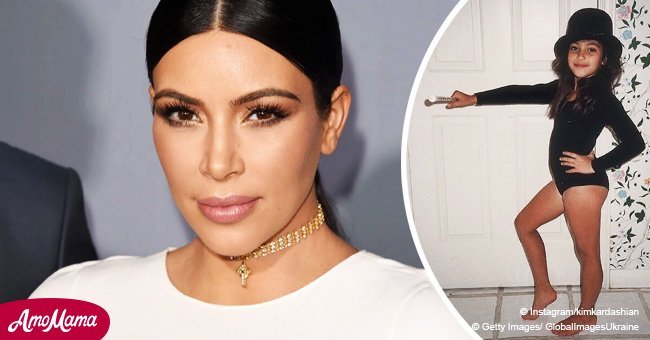 Kim Kardashian shares throwback snap that shows she's been 'posing' since childhood
At a young age, Kim Kardashian already knew how to work her angles in front of the camera as seen in her most recent throwback picture.
The Keeping Up With the Kardashians star shared an old photo oh herself when she was still young and had jazz lessons.
Kardashian looked adorable as she posed with her top hat on, a black leotard and a cane. She had one hand holding the cane and her other hand was on her waist. Her right leg was slightly bent and her foot was tip-toeing. It just shows that Kardashian knew how to pose well even at a young age.
The reality star has recently grown fond of posting throwback pictures. She previously shared a photo of her mother and father, Kris Jenner and Robert Kardashian, at what seemed like a restaurant.
She also posted a throwback photo of herself and husband Kanye West during their wedding to celebrate their fourth anniversary.
West also shared his favorite throwback moment of Kardashian on his Twitter account. It was a video from last year's Halloween where Kardashian was dressed up as Selena in a purple jumpsuit.
The video showed Kardashian imitating the icon while dancing around in the dazzling outfit.
Kardashian and West were married in a private yet luxurious ceremony in Florence on May 24, 2014. Since then, they have welcomed three children, North, 4, Saint, 2, and Chicago, who is only a couple months old.
Chicago was born via a surrogate mother and they introduced her to the public in January 2018.
While she was a guest on The Ellen Show, Kardashian revealed how she initially wanted to name her baby with something that only had one syllable like with North and Saint.
She said, "We were gonna name her Jo because my grandma Mary Jo or we were gonna go with Grace and then it was Chicago."
Please fill in your e-mail so we can share with you our top stories!