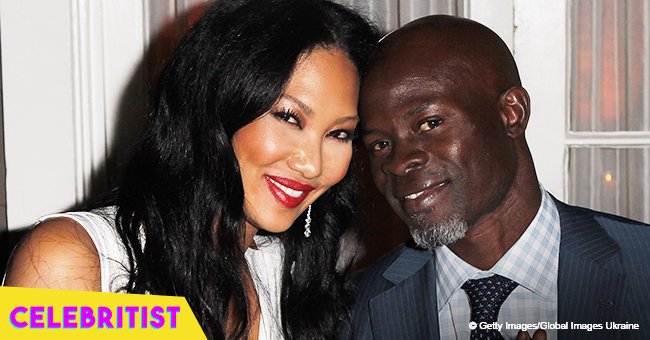 Kimora Lee Simmons' ex Djimon Hounsou shares video celebrating their son's 9th birthday
The video clip shows the 9-year-old Kenzo Lee blowing out the candles on his birthday cake, and in the background gifts and balloons speak of a joyous birthday celebration.
Celebritist learned from "Instagram" that the 54-year-old Djimon captioned the clip by singing his son's praises. He's certainly one very proud father.
"#kEnzoLeeHounsou #KLH Happy birthday to my greatest, kindest boy, a precious gift you are my son, wishing you happiness always. For ever thankful to momlee @kimoraleesimmons."
The actor also reposted a photo shared by Kenzo's older sister Aoki Lee. She describes Kenzo as the "flyest kid" she knows.
"I love you to the moon and back! Happy birthday little bro! Though we may bicker and disagree I can't explain how happy I am to have you! You bring so much light into our lives. Everyone take it from me this little boy has a heart and imagination completely out of this world. I swear he must have come out of the womb cool because this is flyest kid I know!"
The stream of loving messages that Kenzo received on his birthday didn't stop there. Mom Kimora also took to Instagram to express her love for her oldest son.
"I can't believe my baby is 9 already! Kenzo, mama is super proud of the kind, loving, and brilliant young man you have become!"
Kimora's daughters, Aoki Lee and Ming Lee, were born out of her marriage to Russell Simmons, which lasted from 1998 to 2009. She and actor Djimon Hounsou share Kenzo Lee. The couple were never officially married, but participated in a traditional Benin commitment ceremony. In 2014 Kimora revealed that she was married to banker Tim Leissner, and they welcomed their son, Wolfe Lee, in 2015.
What is evident from Kimora's past relationships is that each of her previous partners hold her in high regard, especially when it comes to her as a mother. It's clear from Russell Simmons' Mother's Day Instagram post that he has the greatest of respect for Kimora. Djimon also took the time to thank Kimora in his birthday post to Kenzo.
Kimora Lee isn't only a successful former model and businesswoman, but a fabulous mother to her four children.
Please fill in your e-mail so we can share with you our top stories!