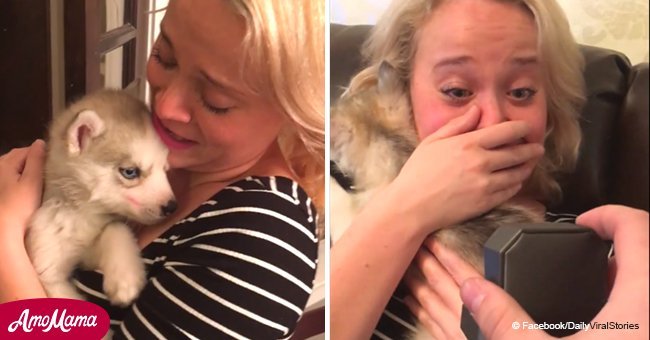 Boyfriend surprised partner with husky puppy and wedding proposal
A boyfriend plans an emotional double-surprise for his girlfriend that sent her breaking down into tears of joy.
A guy surprised his girlfriend by gifting her a Husky puppy, but there was a bigger surprise in store for her that would get her bursting into tears.
In a video posted on Facebook, the girlfriend opens the door to find her boyfriend carrying a cage of husky puppy. The girl cannot contain her emotions as she is absolutely elated by her gift.
On her boyfriend's encouragement, she brings the husky out of the cage and carries it on her arms, taking it in a warm embrace.
"Do you like her?" the boyfriend asks, and she replies by saying that she absolutely loved it. The guy then realizes that his girlfriend was about to cry.
It was then time for him to give her another surprising that he had been planning for. He subtly asks the girl to take the puppy to the next room. "Let's take her into the other room," he stresses.
While the girl is holding the puppy in her arms, totally in awe of it, the boyfriend prepares his second surprise. "You know I've loved you for as long as I can remember," he says to the girl, preparing her for a marriage proposal.
He then pulls out a ring and offers it to his girlfriend, who cannot believe her eyes. She breaks into tears despite trying hard to contain her emotions. "So many exciting things all at once," she says.
This certainly turned out to be a day she would never forget for the rest of her life.
Please fill in your e-mail so we can share with you our top stories!