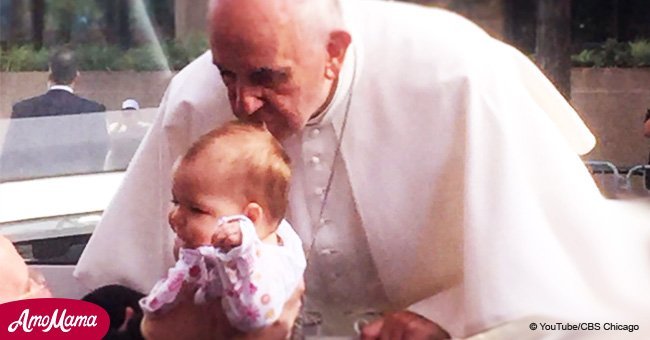 Baby with tumor showing significant progress after 'miracle' kiss from the Pope
A child with brain tumor got the divine blessing, and, only a few weeks later, began to recover from a terrible disease.
Joey Masciantonio's daughter, Gianna, suffered from a brain tumor, which led to her endure as much as eight surgeries and numerous chemotherapy treatments at Philadelphia Children's Hospital in just 15 months of her life.
According to NBC News, it all changed for her when an MRI report suggested that the size of her tumor had significantly shrunk after she got a kiss from Pope Francis during his motorcade at Philadelphia's Market Street.
Fortunately, just hours before the pope's motorcade, Joey was informed by his FBI Agent friend, Donny Asper, that he managed to get them a pass to see the pope. Being devout Catholics, this was truly unbelievable for the Joey and his wife Kristen.
However, they were also elated because they hoped they could get their sick daughter, suffering from juvenile xanthogranuloma, an extremely rare blood disorder, in the presence of the leader of their church.
Although the did not expect in their wildest imaginations to get so much closer to the pope, they were fairly hopeful.
Initially, Joey did not want to visit the rally because he was afraid that Gianna condition might worsen among the crowds. But on his wife's insistence, as well as the recommendation of the doctors, he agreed to go see the pope.
On the street, Joey held Gianna as high as possible so as to the attention of Philadelphia police force and the FBI agents.
As soon as the Pope drove by, his head of security, Domenico Gianni, noticed the baby being held high above the head. The security personnel then grabbed the baby and brought her to the Pope.
Pope Francis lunged forward and then kissed Gianna on the head, giving her his blessing.
"It was the luck of the draw. We believe it was definitely a divine moment," Joey told NBC News.
Six weeks after the encounter, Gianna's latest MRI results returned. To the delight of the family, her tumor had shrunk significantly and was "basically just a blush on the screen."
Please fill in your e-mail so we can share with you our top stories!