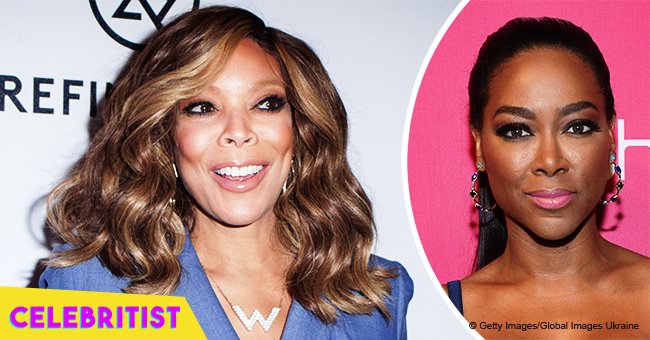 Wendy Williams drags Kenya Moore over her recent baby bump pictures
Kenya Moore has been sharing numerous photos of her new pregnancy journey, amid doubtful fans claiming she does not look pregnant. It seems it's not just the fans who are doubtful however, as Wendy Williams dragged the reality TV star for allegedly "faking her pregnancy".
Kenya Moore attended the Atlanta Ultimate Women's Expo, showing off her baby bump while sporting a tight striped dress. To squash doubters' speculations that she was faking her pregnancy, she also shared an ultrasound video of herself and her growing baby.
Despite clearly proving that she is with child, there are still people who refuse to believe that the 49-year-old is indeed pregnant. One particular person is Wendy Williams, who questioned how a woman who claimed to be pregnant for three or four months does not have a larger belly at this point of her pregnancy.
"Is that a baby bump or a double double with a chocolate shake? I still don't believe - she is 49 years old. Kenya is reportedly pregnant. If she's pregnant at this particular point, I guess she would be three or four months? Is that three or four months pregnant? I mean Kenya's not a small girl so you'd figure she would be showing more. I don't know. It's all a haze to me. But, doesn't look pregnant to me, Kenya."
Williams also made sure to talk about rumors on Kenya being "demoted" from her reality TV show's newest season. Numerous reports have stated that Kenya won't have housewifestatus on "Real Housewives of Atlanta" after she hid her marriage from the spotlight. However, Wendy suggests that if Moore wants to retain her peach in the show, she needs to make a risky choice: either leave the show and maintain privacy when it comes to her marriage with Marc Daly and herpregnancy, or share the ins and outs of her life as expected on any reality TV show.
"The rumors are swirling that Kenya is out, no more peach," she said. "She's going to be 'a friend of.' She's been demoted. And they gave the peach to Eva Marcille. I like Eva, but Eva's boring. She's going to be planning the new baby she's having with the would-be mayor. Her wedding and stuff. She does say a few slick things, but not slick enough to hold a peach."
In the latest episode of her show, William went off speaking directly to Kenya about her situation on the reality TV show.
"Thing is with Kenya, Kenya's not involving her husband on the show. Bravo's pissed off with that. But Kenya, I know you don't want to involve him because you want to have what you would call a regular marriage off of reality TV, but you have to choose at this particular point. You can't be on the show and then hold back from us that you are allegedly pregnant, and your husband. We want to see you in the restaurants. We want to see you talking to staff. We want to see your husband mix it up with the other husbands. Just take the peach from Eva, give the peach to Marlo, and we'll be fine."
See Wendy's thoughts regarding the Kenya Moore situation from the 13:30 mark:
Kenya married restauranteur Marc Daly in 2017, and the two have reportedly conceived a child through invitrofertilization. Trouble with Moore's show came after she hid her marriage to Daly from the cameras, choosing to have a more intimate wedding.
Please fill in your e-mail so we can share with you our top stories!