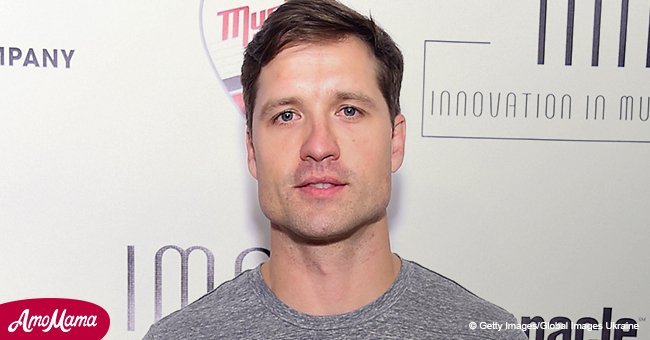 Walker Hayes and his wife Laney reveal a tragic loss of newborn child
The 38-year-old singer and songwriter Walker Hayes' 7th child was born on June 7th, but the family had devastating news to share.
Hayes and his wife Laney informed their followers that Oakleigh Klover Hayes 'was born this morning at the hospital and [is now] safely in heaven.'
They also thanked their family, friends, and fans for honoring their privacy while they grieve. Hayes has since canceled his upcoming shows to be home with his wife and children.
Hayes, who rose to fame for his hit single, You Broke Up With Me, was scheduled to perform at the CMT Awards on Wednesday evening, according to ET Online.
His 92,500 followers sent messages of love and support. The post received more than 15,000 likes and 3,000 comments in the short time it's been online.
Instagram user Kelli Johnson said she was sorry for their loss and sent prayers, while Katie noted that she also 'had a child born in heaven.' Her baby was stillborn after 36 weeks gestation.
She added: 'It is the worst possible thing anyone can go through, and people are going to say things that don't help, even though they mean well.'
Another netizen known only as Connie agreed, saying she has 'two up there as well,' while Kelly added that his fans grieve with the Hayes family. 'Please stay strong to all the challenges you've overcome,' she added.
The couple has always been a united front against the world, and their relationship survived many obstacles, including financial struggles.
In an exclusive interview with Pop Culture earlier this year, Hayes said Laney was excited about his big break in the music industry, not only because he was chasing his dream but rather that he could provide for his family.
"She's excited about that, but also seeing that dream come to fruition. It's her dream too. We did it together. She would say [...] 'You can do this. I want to be a part of that. Let's do this together.'"
Walker Hayes, Pop Culture, February 8, 2018.
To keep up to date with the latest developments, please follow our Twitter account, AmoMama USA.
Please fill in your e-mail so we can share with you our top stories!