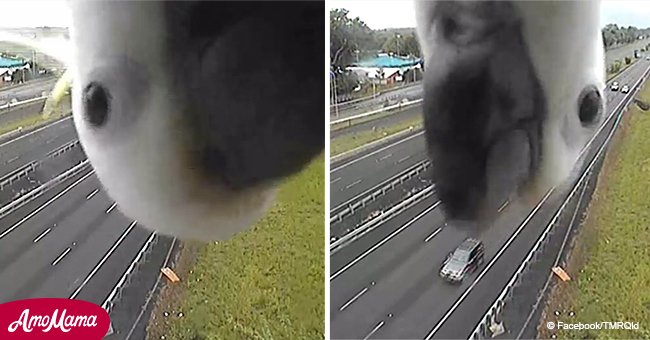 Curious cockatoo checking out traffic camera becomes an instant internet sensation
A camera was set up on a busy highway to monitor traffic, but the Department of Transport got more than they bargained for when a curious bird made their day.
The footage was shared on the Department of Transport's Facebook page with the caption 'Keep an eye out for this complete galah on the road today.'
It appears as if the bird was an Australian cockatoo also known as a galah. The Department has a sense of humor because 'galah' is also slang for a stupid person.
The bird was perched on top of the camera and bobbed his head down a few times to stare into the lens. The 30-second video clip soon gained traction online.
As reported by ABC News Australia, it received more than 60,000 views and was shared by 3,100 Facebook users within an hour of being uploaded.
At the time of writing, the post had been shared more than 71,000 times and was viewed an astonishing 4.5 million times, all in the space of a week.
ABC News also reached out to a local vet, Dr. Adrian Gallagher from Brisbane Bird Vet, who said the bird most likely saw its reflection in the lens and was trying to communicate with his new 'friend.'
"They're very social creatures, and they recognize individuals. A lot of them have friendship groups like we do. In a flock, they'll have a friendship structure, so this guy might be curious, wondering if [his reflection] is part of the flock."
Dr. Adrian Gallagher, ABC News Australia, June 1, 2018.
If that is the case, then the bird had already formed a close bond with his 'reflection.' A spokesperson for the traffic department confirmed that it was not the first time the galah was caught on camera.
"Our traffic management operators sometimes have to give the camera a jiggle to make him fly away when he chews on the camera and cables," the spokesperson added.
For more adorable video clips, follow your Twitter account, AmoMama USA.
Please fill in your e-mail so we can share with you our top stories!