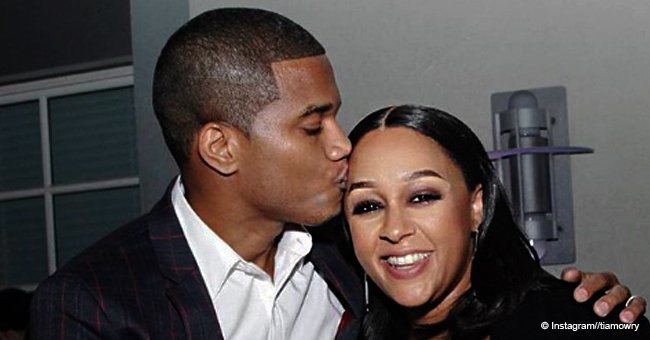 Tia Mowry melts hearts with first picture of newborn daughter and husband Cory Hardrict
Tia Mowry shares adorable photo of her newborn daughter with husband Cory Hardrict while catching some sunlight in their backyard.
It hasn't been long since Tia Mowry gave birth to her second child, and since then, she has been sharing bits and pieces of their new life as a family of four on her Instagram. Just yesterday, Mowry shared an adorable photo of Cory taking care of their daughter as they stepped out to get some sunlight in their own backyard.
It's not just Tia gushing over her newborn baby daughter, but even her sister Tamera. The "Sister, Sister" star couldn't stop gushing about her niece on the episode of "The Real" right after Tia gave birth.
"You guys, she is absolutely stunning and perfect in every way. She was six pounds, four ounces. She is very petite. But she is so girly! Everything symmetrically is, like, perfect. They have a beautiful boy and now a beautiful girl, and I'm just so excited. I'm actually going to see her again today because I miss her. She is precious, you guys"
Tia made sure to update her fans right away regarding her birth, sharing the time and date of her birth, including how much her baby girl weighed.
"Feeling grateful and blessed as we welcome our little baby girl into the world! Born May 5th at 10:29 am at 6 pounds and 4 Oz 19.8 inches We are in heaven."
Tia and her husband Cory have another child, Cree Mowry Hardrict, 6. The couple has had a hard time conceiving a second child after having her first difficult pregnancy and due to her battle with endometriosis. Despite this, she has given birth to a healthy baby girl.
Please fill in your e-mail so we can share with you our top stories!