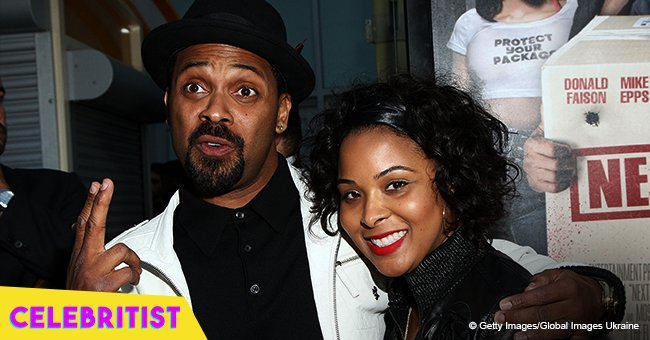 Mike Epps ex-wife stuns in red high heels and tight jeans at daughter's graduation day
Mechelle Epps is single and glowing like never before. The mother of two recently showed off her curves in tight jeans as she posed with her youngest daughter on her graduation day from elementary school.
Madison Epps is already 10-years-old, and she just celebrated her graduation from elementary school looking gorgeous in the company of her mother and her sister Mariah. The girl is a self-titled fashionista, actress, and model on the making, and she inherited those talents from her mother for sure.
Mechelle, 36, stood proudly next to Maddie wearing tight white jeans, a blue embroidered blouse and red strappy heels that enhanced her toned legs and curvaceous body. She wrote on the caption of her photo on Instagram:
"Graduation Day!! How time flies! My baby is growing up too fast. Congratulations @_officialmadison"
The big absent in the party was the girls' father, Mike Epps, who recently got engaged to TV producer Kyra Robinson just eight months after he officially finalized his divorce with Mechelle. The couple was together for over 10 years, but he filed the divorce papers in January 2016, citing irreconcilable differences.
Their legal battle went on for almost two years and it ended in a super-rich settlement where Mike walked out with 10 properties in Indiana and four cars, while Mechelle got four other cars and half of the royalties from Mike's movies and TV series, according to TMZ.
Epps was also ordered to pay Mechelle $25k a month in spousal support for a total of 6 1/2 years unless she gets married again, and $15k a month in support for their daughters.
However, the actor seems to be unbothered by the numbers, and instead, he got a girlfriend just months after ending things with the mother of his daughters. He proposed to Kyra Robinson last month in front of family and friends at a party, and he couldn't be happier.
The new couple is not only lovers but also business partners, as they recently worked together to create and produce BET's Social Media Awards this past March. Robinson, like Epps, has an impressive resume on her own. She's an NAACP-nominated TV producer, and is one of the brilliant minds behind OWN's "Iyanla: Fix My Life."
Mechelle is looking good and happy these days, and we hope she and Mike can be able to co-parent in peace in order to raise their kids in a loving environment.
Please fill in your e-mail so we can share with you our top stories!