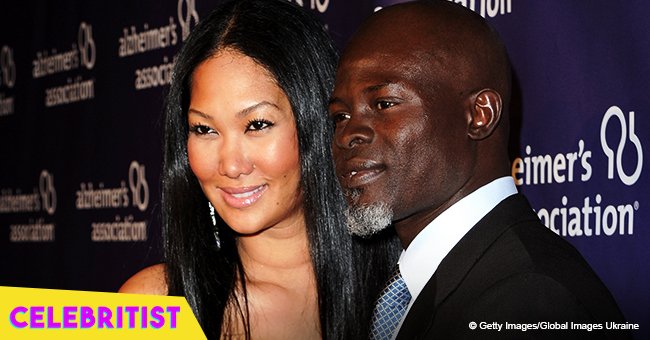 Kimora Lee Simmons & ex Djimon Hounsou melt hearts with photos from their son's birthday party
Kenzo Lee, the son of Kimora Lee Simmons and Djimon Hounsou, had a very special 9th birthday party. His parents made it public on social media.
Kimora posted a couple of videos on her Instagram account during the party. The first one portrayed Kenzo next to a couple of people who put on costumes of superheroes, including Black Panther, Spiderman, Captain America, and Wonder Woman.
In it, Black Panther was asking Kenzo to take a photo next to him and his fellow heroes with his hands over the chest, copying one of the most representative moves of Black Panther in the film.
The second video uploaded by Kimora portrayed all the arrangements that were done in order to make the party that good. It showed a couple of guests sitting by the pool, a number of inflatable floats, and several balloons adorning the backyard of the house.
For the caption, Kimora wished her son a happy birthday and pointed out that his family loved him very much.
Apart from that, she added the hashtags 'Wakanda Forever' – making reference to the imaginary country where Black Panther lives – and 'He Thinks He Is Too Old' – which explained why Kenzo was so hesitant about posing next to the superheroes in the first video.
Djimon also took to his Instagram account to share photos of the party. One of them showed Kenzo hugging his father while the aforementioned superheroes were next to them.
One of the most impressive aspects of that post was that there were golden balloons behind all of them that created the word 'KENZO.'
The last photo shared by Djimon showed Kenzo and a group of friends next to the heroes. Djimon captioned that imaged wishing his son a happy birthday and thanking his ex-wife Kimora.
People couldn't help but comment on their posts. One of them was Instagram user Michiko Cho, who pointed out that Djimon and Kimora were 'phenomenal parents.'
Even though Kenzo might have felt that he was too old for having superheroes in his party, everything seemed to be very fun.
Please fill in your e-mail so we can share with you our top stories!